Sugarland Calls For 'Moment Of Silence' At First Show Since Indiana Tragedy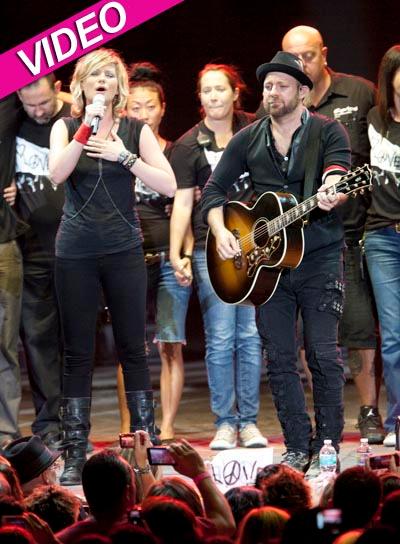 With heavy hearts, the band played on.
Sugarland performed at Albuquerque, New Mexico's Hard Rock Pavilion Thursday night – it was the duo's first performance since high winds caused a stage to collapse at the Indiana State Fair, killing five people and injuring more than 45 others.
Taking the stage, the country duo of Jennifer Nettles and Kristian Bush called for a moment of silence for the injured "and the beautiful lives that were lost."
Article continues below advertisement
With most of their set and musical instruments destroyed in the incident, the band played on a generic set with new instruments.
"This incredible machine is more than a tour and more than a set," the Grammy-winning pair said in a statement on their website Tuesday. "We have always celebrated music as a healer.
"While music cannot change the events and losses at the Indiana State Fair, it can hopefully serve as a ritual and a balm to provide comfort and facilitate healing in this time of great sorrow."
"Our road family experienced its traumas together. While we all scattered to our given families for their comfort, the trauma we experienced together binds us in a unique way that we share only with each other, and those who were there.
"There is healing in our being together," the band said. "There is healing in our working together."
Watch the video on RadarOnline.com
Nettles posted an emotional statement to the band's website the day after the tragedy, saying she was "so moved" by the incident for a variety of reasons.
Article continues below advertisement
"Moved by the grief of those families who lost loved ones," Nettles said. "Moved by the pain of those who were injured and the fear of their families.
"Moved by the great heroism as I watched so many brave Indianapolis fans actually run toward the stage to try and help lift and rescue those injured. Moved by the quickness and organization of the emergency workers who set up the triage and tended to the injured.
Article continues below advertisement
The victims of the tragedy are: Alina Bigjohny, 23, of Fort Wayne, Indiana; Christina Santiago, 29, of Chicago, Illinois; Tammy Vandam, 42, of Wanatah, Indiana; and Nathan Byrd, 51, and Glenn Goodrich, 49, both from Indianapolis, Indiana.