Indiana State Fair Stage Collapse Kills 5 Before Sugarland Show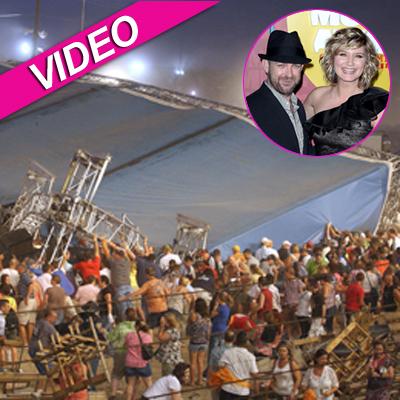 The Indiana State Fair was rocked by tragedy Saturday night when a stage collapsed minutes before Sugarland was to perform - five are now confirmed dead.
Thousands of fans awaiting the superstar country duo had just seen opening act Sara Bareilles when an announcer warned of an impending storm. Just-in-case evacuation instructions were given but everyone hoped the show could go on. Only moments later, the giant stage was practically lifted off the ground by high winds, and in what many eyewitnesses described as almost a "slow motion" sort of event, collapsed to the ground.
Article continues below advertisement
A VIP section called the Sugar Pit because of its position closest to the stage, was among the hardest hit as steel scaffolding pancaked.
A member of the stage crew is among the dead.
No one in the Sugarland band or crew was injured. They posted a message on their website: "We are all right after our stage collapse at the Indiana State Fair tonight. Many of our fans and friends in Indianapolis may not be. Please keep them in your thoughts, prayers, or whatever form of strength you are able to send. They need you. Thank you."