Tony Hawk Shows Off Gnarly Smile After Skateboarding Accident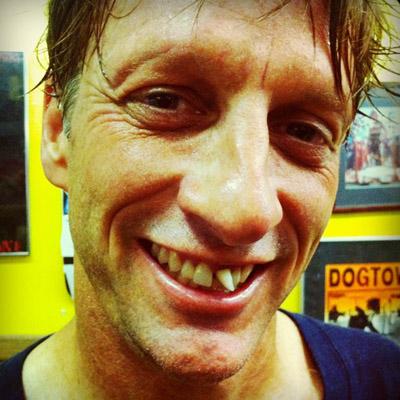 No, Tony Hawk is not auditioning for a role on True Blood.
Rather, the skateboarding icon had an accident at Jacksonville, Florida's Kona Skate Park Tuesday, dislodging one of his front teeth in the process.
The 43-year-old Hawk tweeted: "Oops, doubles with Staab went wrong at Kona. Anyone know a good dentist in Savannah? <-- not a joke"
He linked to an image of himself, smiling, with his tooth looking ready to fall out. (Hey, at least he was smiling!)
Article continues below advertisement
Hawk's is the second celebrity-involved skateboarding-related accident this week, as rapper Lil Wayne received nine stitches after a mishap in St. Louis.
RELATED STORIES: