Forbes Highest Paid TV Actors: Unemployed Charlie Sheen Tops The List!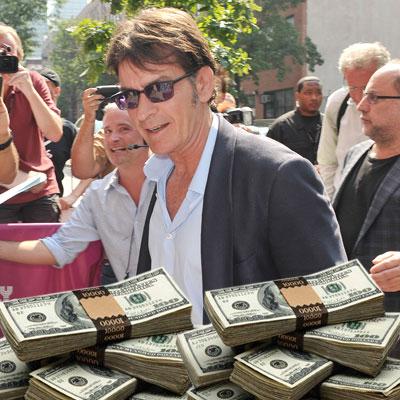 Charlie Sheen has been named the Highest Paid Actor on TV, despite being fired from his hit sitcom, Two and a Half Men.
The actor lost his role as Charlie Harper in the sitcom in March after a huge fall out with co-creator Chuck Lorre, but still topped the list compiled by Forbes.com who estimates he earned $40 million from syndication and pay owed between May 2010 and May 2011.
Charlie also filed a lawsuit against Lorre and the show's makers, Warner Brothers, over his dismissal, but this was settled out of court. Although the sum of the settlement has not been made public, it has widely been reported to be a $100 million deal, starting with a $25 million lump sum payment to Charlie.
Article continues below advertisement
As RadarOnline.com was first to report, Charlie has inked a deal with Lionsgate TV to create a new sitcom, and he's set to make more money than ever!
The 46-year-old star is now working on a new show based around Adam Sandler's film Anger Management about an athlete-turned counselor - originally played by Jack Nicholson in the movie - who enrages his patients more than calming them down.
Speaking of the series, Charlie said: "I chose Anger Management because, while it might be a big stretch for me to play a guy with serious anger management issues, I think it is a great concept."
MORE ON:
Two and a Half Men
Behind Charlie on the Forbes list is Ray Romano, who banked $20 million for his new show Men of a Certain Age, which has already been axed.
In third place is Steve Carell, for his performance as lead character Michael Scott in The Office, which netted him $15 million, but is a role he has since left to concentrate on his film career.
NCIS star Mark Harmon came fourth with earnings of $13 million followed by Charlie's former co-star Jon Cryer and ex-CSI actor Laurence Fishburne who tied in fifth with $11 million each.
Forbes.com's Highest Paid Actors on TV 2010-2011:
Charlie Sheen, $40 million
Ray Romano, $20 million
Steve Carell, $15 million
Mark Harmon, $13 million
Jon Cryer, $11 million
Laurence Fishburne, $11 million
Patrick Dempsey, $9 million
Simon Baker, $9 million
Hugh Laurie, $9 million
Christopher Meloni, $9 million

RELATED STORIES:

Insiders Say That There Is No Way Bethenny Frankel Sold Skinnygirl For $120 Million

Tyler Perry Named Highest Paid Man In Entertainment With $130M!