Tyler Perry Named Highest Paid Man In Entertainment With $130M!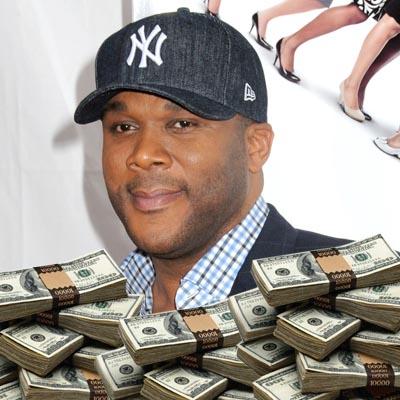 Tyler Perry has been named the highest paid man in entertainment after grossing $130 million in the financial year 2010 to 2011.
In the list -- compiled by Forbes.com -- uber producer Jerry Bruckheimer ($113 M) and director Steven Spielberg ($107 M) round out the top three.
During this time, Tyler made money from his TV shows Meet the Browns and House of Payne and wrote, directed, produced and starred the in films Madea's Big Happy Family and Why Did I Get Married Too? and adapted, directed and produced another film, For Colored Girls.
Article continues below advertisement
The 42-year-old star's ambitions don't end with having his own projects, however, and he has previously talked about starting his own network.
He said in 2009: "As I grow it from House of Payne to Meet the Browns and spread out with more and more shows, who knows? I'm working on anchoring my own network."
Second on the list is Jerry Bruckheimer who -- despite the fact two of the films he produced, The Sorcerer's Apprentice and Prince of Persia: The Sands of Time underperformed at the box office -- made an estimated $113 million.
This is largely thanks to the success of Pirates of the Caribbean: On Stranger Tides, which earned $1 billion at the global box office and the success of various TV projects he worked on including the 'CSI' franchise.
Returning director Steven Spielberg takes third place with $107 million, earned in part from his upcoming pair of big-budget films, War Horse and The Adventures of Tintin.
In fourth spot is Sir Elton John, the only musician to make the list, who banked an estimated $100 million from his world tour.
Article continues below advertisement
ON YOUR RadarOnline.com: The Nicest & Naughtiest Stars Of 2010!
The top five is completed by television mogul Simon Cowell, who earned $90 million from his involvement with American Idol in 2010 and UK pop star search show The X Factor, which is now launching in the US.
Entertainment's Highest Paid Men, according to Forbes for financial year 2010-2011, top 10:
1. Tyler Perry, $130 million
2. Jerry Bruckheimer, $113 million
Tyler Perry Candidly Discusses Past Physical, Sexual Abuse