FBI Arrest Suspect In Celebrity Phone Hacking Investigation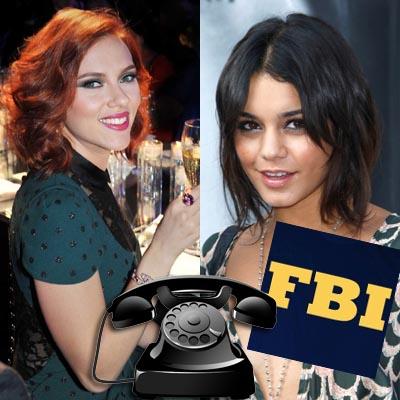 UPDATE: Christopher Chaney, 35-year old from Jacksonville, Florida has been formally arrested and charged with identity theft and wiretapping. Chaney was indicted by a grand jury.
The FBI arrested Chaney this morning without incident. Chaney allegedly gained access to celebrities cell phones and email accounts, and assumed control for his benefit. If convicted, Chaney could face up to 121 years in prison.
Article continues below advertisement
COURT DOCUMENTS: Read Chaney's Indictment
The FBI has arrested a suspect in the celebrity phone-hacker case who is thought to be responsible for posting photos of numerous Hollywood stars including Scarlett Johansson and Vanessa Hudgens on the Internet, RadarOnline.com has learned.
Code-named "Operation Hackerazzi," the investigation has been focused in recent months on finding the cyber culprit who broke into the stars' cell phones and shared their private photos with the world.
The Avengers star Johansson was the most recent victim when nude photos that she took of herself on her phone were leaked on the Internet last month.
So far the identity of the man, who is rumored to be from Florida and working alone, has not been revealed, but the FBI will provide more details in a news conference later on Wednesday.
"Federal officials will conduct a news conference to announce arrest/federal charges filed in Operation Hackerazzi, which involved computer intrusions targeting individuals associated with the entertainment industry,'' says FBI spokesperson Laura Eimiller told RadarOnline.com in an e-mail on Wednesday.
MORE ON:
Celebrity Justice
Article continues below advertisement
Those present at the news conference will be Steven Martinez, assistant director in charge of the FBI Los Angeles area office, U.S. Attorney Andre Birotte Jr. and Wes Hsu, chief of the Cyber & Intellectual Property Crimes Section of the U.S. Attorney's Office.
As RadarOnline.com previously reported, the FBI investigation was launched in March and was looking into the cases of at least 50 female celebrities who had been hacked, including Selena Gomez, Demi Lovato, Ali Larter, Busy Philipps, Miley Cyrus, Emma Caulfield and Addison Timlin.