Tattooed Biker Breaks Down In Tears Of Terror When Faced With A Pit Bull Puppy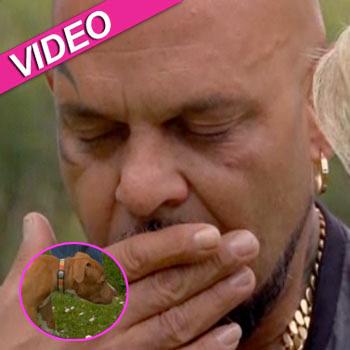 A muscled tough guy with a face tattoo broke down into terrified tears during a stand-off with a cute adorable puppy, and RadarOnline.com has video of the blubbering giant.
The bizarre footage is part of an episode of the Animal Planet series My Extreme Animal Phobia, which features Marvin Cruz being taken to a dog park by his therapist to overcome his debilitating fear of pit bulls - even the bouncing baby ones - stemming from a childhood trauma.
Article continues below advertisement
"It's now time for Marvin's exposure and I am really worried about the next level for him," said Dr. Zasio, who forced the 47-year-old biker to face his fears in the dog park in Romeoville, Illinois.
"You don't go to parks do you?" she asked her heavily-tattooed patient, who replied: "Nooooo, they're dog-friendly," while shaking and holding his hands up to his face with clenched fists.
"This exposure is going to bring up a lot of pain and memories of the past," the doctor reveals.
As soon as the chestnut brown pit bull puppy trots out, Marvin turns on his heel and runs away.
"This pit bull puppy comes around the corner, my heart almost jumped out of my body," the massive man revealed, as Dr. Zasio explained to her tearful patient, "This dog represents 40 years of pain."
Just wanting to play, the white-pawed pup was oblivious to the horror he was inflicting on the big man with gold chains as he bounded towards him.
Article continues below advertisement
While the pooch sniffs the grass curiously, Marvin sounds like he is going to hyperventilate from a puppy-induced panic attack when his counselor suggests he pet the dog.
"He's looking at me, noooo," he moans, breaking down into floods of tears. "I'm a coward."
Marvin went on to reveal the source of his life-long phobia. "I close my eyes and I go back in time to where I was when I was five years old," said Cruz, who witnessed a vicious pit bull attack on his neighbor when they were both children.
"He needed a thousand stitches. Ever since then, if I see a pit bull I'm frozen, I'm ice-cold, I can't move," he explained.
Cruz has finally become determined to battle his furry demons so that he can finally go to the park with his daughters instead of hiding at home.
At the end of his dog-park showdown Marvin eventually reached down and touched the green-eyed beauty in a rainbow collar, all the while acting as if it was a vicious bear instead of a friendly puppy.