Demi Lovato Belts Out The National Anthem Before The World Series Game 5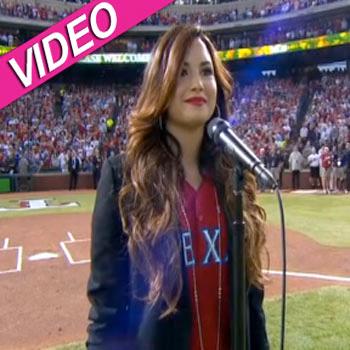 Disney star Demi Lovato proved she is firmly on the road to recovery when she took to the field at the World Series game in Arlington, Texas on Monday to sing the national anthem, and RadarOnline.com has video of her impressive performance.
The recently rehabbed teen nailed the patriotic song as she belted out the Star-Spangled Banner in front of hundreds of baseball fans (and millions of television viewers) at the Game 5 face-off between the Texas Rangers and the St. Louis Cardinals in her home state of Texas.
Article continues below advertisement
Dressed in a red Texas Rangers shirt with matching black shorts and blazer, Demi showed no sign of the nerves during her big-voiced performance, but she admitted to her Twitter followers on Sunday that she had baseball-induced butterflies.
"About to go sleep.. So nervous/excited about tomorrow!!! National anthem at the #worldseries ... Wow!!!" Lovato tweeted.
As RadarOnline.com previously reported, 19-year-old Demi checked into an Illinois medical center last November to seek treatment for bulimia and self-injury after she had a meltdown on a plane with the Jonas Brothers and attacked a dancer.
Almost a year later, the former Camp Rock star appeared both happy and healthy as she embraced her two passions of baseball and singing.
Fortunately Demi learned from Christina Aguilera's debacle earlier this year when she forgot the lyrics during her Super Bowl performance and made sure she memorized the lyrics!
"I'm so excited," Lovato recently told MTV News about her scheduled performance. "I just nearly died when I found out. I cannot wait."
MORE ON:
Christina Aguilera
Article continues below advertisement
She went on to explain how it was her fans who campaigned for her to get the ultimate singing experience.
"My fans were actually the ones that sent a petition saying, like, 'Can we get Demi to sing the national anthem?' and sent it to the MLB and the Rangers' Twitter, and they saw it and they called," Lovato revealed. "So without my fans' support, I wouldn't be singing the national anthem."
After her performance, Lovato stayed in the stadium to cheer on the Rangers in their quest for the championship. "I support my home team," she explained.
As usual, Demi's dad was not by her side during the game, as RadarOnline.com recently reported, her ailing father has not spoken to the Disney star since last November.
"I love her so much, and I just want her to call me," Patrick Lovato told RadarOnline.com in an exclusive interview. "This is the only way I can talk to her, I try to reach her but it never works."
Watch Demi sing the national anthem below: