Exclusive
EXCLUSIVE INTERVIEW: Demi Lovato's Dad: Pressure Of Hollywood Got To Her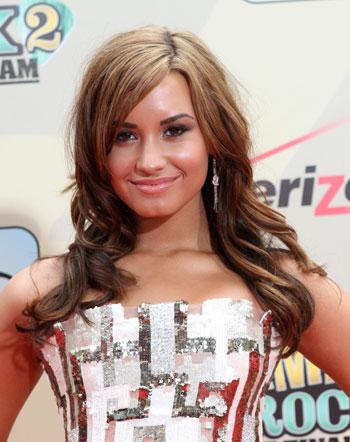 Disney star Demi Lovato has checked into a medical center for help and her father Patrick Lovato told RadarOnline.com in an exclusive interview that he believes the pressure of Hollywood got to her. He said this was a key reason he was concerned about her getting into showbiz at such a young age.
When asked if he thought the pressure of Hollywood affected her, Lovato's dad answered, "yes." He told RadarOnline.com, "There are a lot of pressures. That is one of the things I worried about when she signed with Disney.
Article continues below advertisement
"It's just going to happen," he said about the pressure affecting his daughter.
Lovato announced Monday that she was checking into a medical center to seek treatment. Her rep said she is not being treated for drugs but is facing "emotional and physical issues she has dealt with for some time." People close to her told RadarOnline.com she has had emotional problems with being bullied, cutting herself and body image issues.
Demi's parents were both in the entertainment business when she was young and her father told RadarOnline.com that it gave him a preview of how hard touring would be for Demi. "Dianne and I each played in a band and we toured all over the United States and Canada and our oldest daughter Dallas went with us and I could see then what the pressures would be like for a child on tour because it was hard on Dallas too," Patrick said. "She enjoyed it because we were always on the road and we had a nice bus and it wasn't too bad but the hours were difficult."
Article continues below advertisement
Patrick said he thought watching her parents influenced Demi's decision to go into showbiz. "She grew up around it so I guess that's why she went into it; I guess it's in her genes with her mom and her dad. Mainly watching her mom, I'd gotten out of it myself. Cause someone had to take care of the kids."
Demi's parents are divorced and Patrick is battling cancer. The last time Demi visited him was reportedly 2008.
He didn't expect his daughter to go into a treatment center, and told RadarOnline.com her admission was a surprise. "No, I didn't' know anything about it," he said.
"It's not a drug addiction center," Patrick added.
Reports that the Camp Rock star was bullied in school surprised her father. "No I sure didn't," he said when asked if he know about her being bullied.
Pictures over the years show Demi with what looked like cuts on her wrists, but her father wouldn't comment when asked about her cutting. "I can't say," he responded.
Article continues below advertisement
Patrick hasn't spoken to Demi lately. "It's been a couple of months. I've had cancer, I've been in the hospital for two months and I just got out. She hasn't visited, she's been too busy, she's been way too busy."
Demi's parent's marriage ended in 1994, and her father spoke fondly of his spitfire daughter. "After Dianne and I split up I would take and pick the kids up every morning to school. When she would get out of preschool she would go on the job with me. She was so cute. I was a contractor and I also raced cars and she loved it, she loved going out there to the race track. She was a born racer. She rode in the car with me; I took her out a few times.
"I worked with Dale Earnhardt and the first car on his track, the track wasn't open yet on the Texas Motor Speedway, I built all the light tracks there, Dale was going around the track, this was on ABC TV too, he was getting out of the car and he said "hey little one what did you think of that?" she said "my daddy can drive faster than that." Like a true daughter."
Patrick expressed confidence in his daughter, who has cancelled her tour with the Jonas Brothers for her treatment.