RADAR LIVE: Michael Jackson Death Trial — Talkback, News & Opinion Live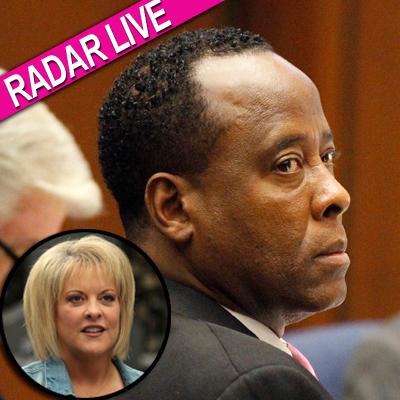 Dancing With The Stars contestant and no nonsense TV host Nancy Grace, will be on Radar Live on Friday at 12:30 PST.
The powerhouse prosecutor will be giving her thoughts on the Dr. Conrad Murray involuntary manslaughter trial, and in true Nancy Grace style she's sure not to hold back!
RadarOnline.com will be broadcasting a LIVE pod-cast at 12:30 p.m. PT/3:30 p.m. ET to provide up-to-the minute news, analysis and commentary about what's been dubbed the Trial of the Century -- the People Vs. Dr. Conrad Murray.
Article continues below advertisement
Michael Jackson Slurring His Words Recording Played At Trial: 'I Didn't Have A Childhood'
Dr. John Sharp and David Perel, Editor-In-Chief of Star Magazine & Executive Vice President of RadarOnline.com, will also be guests.
Radar Legal Editor Jen Heger will be joined by Star's Senior Executive Editor Dylan Howard for RADAR LIVE.
You too can take a stand on the issues discussed by our panel as we take your calls about the trial, as all the drama unfolds.