Prosecutors to Play Conrad Murray's Interview With Cops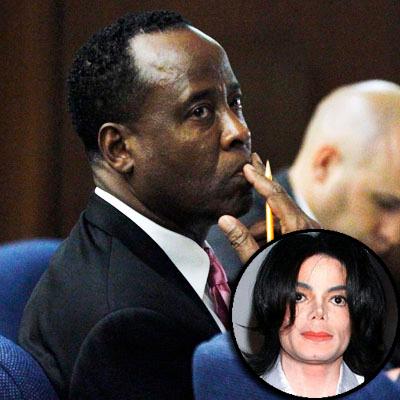 For the first time, we will hear directly from Dr. Conrad Murray in his trial in Los Angeles on Friday.
Prosecutors will play a recording of a police interview conducted with the Houston-based cardiologist just two days after Michael Jackson's shocking death in June, 2009.
The interview -- which lasted more than two hours -- has never been played in public before. It was conducted by two Los Angeles Police Department detectives.
Article continues below advertisement
RadarOnline.com will continue its gavel-to-gavel live stream coverage of the trial, beginning at 8:45am PT/11:45am ET Friday.
Meanwhile, during testimony on Thursday, the Los Angeles County Coroner's investigator who examined the singer's body and bedroom was accused of making "mistakes".
Elissa Fleak was questioned by defense attorney Ed Chernoff on some of her atypical practices.
After saying she always destroys her investigation notes, Elissa admitted she failed to dispose of her documents from a second trip to Michael's house on June 29, four days after his death.
She said she kept the notes because it was unusual to require a second trip to an investigation scene, to which Chernoff asked: "Would you agree with me that you made a substantial number of mistakes in investigating this case?"
Fleak said: "No."
The investigator also admitted she had picked up a bottle of Flumazenil from the floor of the Thriller hitmaker's bedroom before taking photographs and said she apparently left a partial fingerprint on a syringe found in the room.
Article continues below advertisement
Noting she usually wears gloves, she said: "I found out about the fingerprint later."
Explaining she thought the fingerprint may have transferred as tables were moved around the room, she added: "I don't remember if I was wearing gloves when the tables were moved."
Chernoff asked her: "You don't consider any of that a mistake?" but she responded "no".
Later in the day, Jurors were shown a picture of a child sized porcelain doll, which was dressed in green dungarees and had blonde curly hair lying next to a CD player in Jackson's bedroom.
The court was also shown a police photograph of ornate dinner plates featuring babies' faces – believed to be those of the star's three children – displayed on a chest of drawers alongside family pictures.
Also shown to the court today was the official toxicology report of tests carried out on Michael's body after his death from acute Propofol intoxication on June 25, 2009.
The document showed the star had six legal substances in his system, Propofol (Diprivan), Lidocaine, Diazepam (Valium), Lorazepam (Ativan), Midazolam (Versed), and Ephedrine.
Article continues below advertisement
Giving evidence to the court, toxicologist Dan Anderson said that, out of all the substances found, Jackson had the least amount of Propofol actually in his stomach.
Anderson said he found only trace amounts of the drug – the equivalent of a few specks of sugar.
Murray denies administering the fatal dose of Propofol that killed his famous patient. If convicted, he faces up to four years in prison.
RELATED STORIES: