Bill Rancic: Giuliana Is 'Doing Well' After Breast Cancer Surgery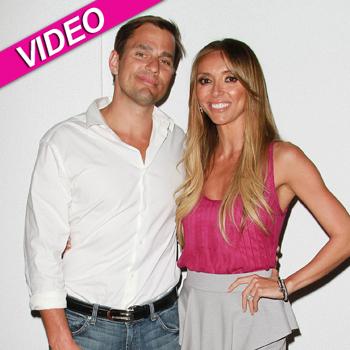 Senior RadarOnline.com Reporter
TV personality Giuliana Rancic has come through her breast cancer surgery with flying colors and her husband says his wife is "doing well."
Bill Rancic told the Today Show that his 37-year-old wife "has had a tough year and a half, between IVF and this," but that her double lumpectomy surgery on Wednesday went well.
"It was kind of a long day," Bill said about his wife's surgery, performed just days after she announced that she had breast cancer.
Article continues below advertisement
"There's many steps in the process when you go through this. Because it was on both breasts, the morning started off with a two hour MRI where they had to put a guide wire in so the surgeon knew exactly what area to remove."
He said that after a mammogram of the other breast, Giuliana went into surgery that lasted about two hours and she did great.
"She's a trooper. She pulled through it and was kind of relieved to get it over with and get the cancer out. She's doing well at home and recovering."
Watch the video on RadarOnline.com
Her 40-year-old husband, winner of the first Apprentice, said he's taking care of Giuliana and joked, "I'm adding nurse to my resume," but tenderly told the Today Show that it was an emotional day for him.
"I wish I could take some of the pain away," Bill said. "Watching her being wheeled into that operating room was heartbreaking for me. I'm just doing everything I can to support her and make sure that she's comfortable and try to make her laugh as often as possible."
Article continues below advertisement
They are upbeat about the prognosis. "We're viewing this as a gift," Bill said and explained "It was caught accidentally very, very early."
Giuliana and Bill are going back to the doctor on Friday and he are optimistic about the outcome. "We're hoping that we get a good report tomorrow, God willing, then it's radiation and we will kick off 2012 with a new outlook on life."
He said that his E! New host wife plans to return to work next week. On Monday Guiliana reassured fans about her condition.