Exclusive
Demi Moore & Ashton Kutcher Reunite For Campfire Counseling As He Repents For The Ultimate Sin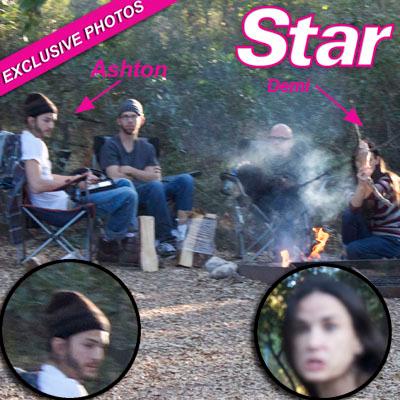 Senior Executive Editor, Star
Two and a Half Men star Ashton Kutcher used Yom Kippur, the holiest and most solemn day of the year for Jews, to beg his heartbroken wife Demi Moore for forgiveness -- at a campfire heart-to-heart in Santa Barbara, Calif., RadarOnline.com is exclusively reporting.
As these exclusive photos obtained by Star magazine reveal, the 33-year-old serial cheater used the Day of Atonement to make amends for his ultimate sin: cheating on Demi with blonde Sara Leal, 23, on September 24 -- the morning of their sixth anniversary.
Article continues below advertisement
The fireside chat is one of the rare times the embattled pair has been seen photographed together in three months and since news broke of Ashton's wild hot-tub party awash with booze and blondes.
Reuniting at Cachuma Lake in the Santa Ynez Valley, Demi and Ashton had desperately wanted the October 8 rendezvous to remain a secret -- their last ditch attempt to resurrect a faltering union.
So much so, the Ghost star, 48, reacted with fury after a fellow camper snapped this series of photographs of the Hollywood megastars, who were dressed down from their usual red carpet glamor.
See the photos here and pick up the next issue of Star magazine, which hits newsstands on Wednesday.
Looking gaunt and tired, Demi confronted the amateur photographer and tried in vain to block the woman's camera, screaming in her face: "Please don't take photos of me or my family. Please don't expose this."
Demi and the camper went nose-to-nose before the hostile star scurried back to the camp and ordered Ashton and their three friends to hide inside their tent in a bid to avoid being snapped further, according to an eye Witness.
Article continues below advertisement
"Demi was screaming," the onlooker told Star. "Once she knew she had been photographed, she whistled at Ashton and gestured for him to hurry into the tent."
"It was obvious," added the source, "that Demi was showing the strain about the state of her marriage."
Wearing jeans and a burgundy and grey hooped sweater, Demi also reaffirmed her commitment to Kabbalah, the controversial religious offshoot of Judaism that is counseling the pair, by wearing its red string bracelet on her left wrist.
Ashton Kutcher's Fling Sara Leal Does Sexy Body Shots Off Gal Pal
The red string custom is meant to bring good fortune and protect against an 'evil eye'.
While Demi and Ashton are not Jewish, they along with several other non-Jewish celebrities, including Madonna, have converted to the mystical faith.
Seven weeks ago, the couple turned to Kabbalah and signed up for the religion's counseling in order to save their marriage.
Article continues below advertisement
Ashton Kutcher & Sara Leal's Booze Fueled Party Night: All The Details!
The religion teaches its superstar believers that "difficulties and disagreements are without exception opportunities" for them to become "that right person," according to relationship advice posted on its website.
"Even hard times or points of conflict are opportunities for positive change," it's claimed.
"What seems to be a problem is actually a gift: a chance to remove an internal obstacle that stands between ourselves and the unlimited happiness that is our real destiny."
Article continues below advertisement
What's more, the embattled Hollywood power duo also gave a series of visual signs that their marriage is fighting for its life -- by being photographed wearing their respective wedding rings.
Ashton Kutcher's Secret Lover Sara Leal Parties Hard – Watch The Video!
But a top source close to the couple insisted, "it's over."
"The marriage is dead," the insider told Star.
"Demi desperately wanted to save their marriage. But the San Diego cheating scandal is a hard one for her to stomach, as it is backed up by photos. It humiliated Demi."
The Santa Barbara reunion came just days after Star published sensational photographs showing the Two And A Half Men star chatting to a gaggle of blondes on the night he romped with party girl Leal, 23, in a $2500-a-night hotel.
Demi was heartbroken over his one night stand -- his second in 12 months -- at a time when the actor should have been preparing to celebrate his sixth wedding anniversary with Demi.
Article continues below advertisement
That night, Demi -- 15 years his senior -- was 2,500 miles away in New York.
Ashton Kutcher's Alleged Mistress Deletes Social Media Accounts
Earlier, Ashton had sent her a bouquet of flowers to celebrate the anniversary and attached a card that read, "I believe in you."
But according to two party-goers who were inside the penthouse, Ashton was anything but a model husband.
"When I walked in there were a sea of busty blondes," Kimberly Perry told Star, "Everyone was drinking."
Another guest, Megan McNutt, boasted: "It was pretty wild. All the girls were throwing themselves at him but Sara's a hot girl. They definitely had sex."
UPDATE: Demi and Ashton were joined on the trip by Ashton's twin brother Michael Kutcher, Hollywood "florist to the stars" Eric Buterbaugh and their Kabbalah instructor, Rabbi Yehuda Berg.
Yehuda Berg is the son of Philip Berg, the founder of the Kabbalah Centre, and is co-director of the Centre with his brother Michael Berg.