X Factor Judge To 14-Year-Old: 'I Prefer Your Version Of Baby To Justin Biebers!'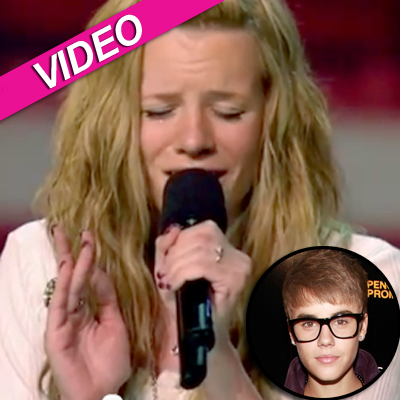 There were a lot of great moments on Wednesday night's The X Factor -- and here's one of our favorites.
14-year-old Drew Ryniewicz (Yes, she's only 14!) from Chino Valley, Arizona took to the stage and gave her own twist to Justin Bieber's hit song Baby.
Her song choice was especially daring since X Factor judge L.A. Reid produced Bieber's smash My World 2.O album.
The teen -- a super fan of the Biebs -- gave a slow, soulful rendition of the song that left the judges smiling and the audience cheering.
Article continues below advertisement
Watch the video on RadarOnline.com
Nicole Scherzinger was the first judge to comment. She slyly started by saying: "It's hard for me because I'm a real Justin Bieber, fan and I like the original version…"
After the appropriate, dramatic pause (complete with tenseful music!), she said: "… which is why it's so interesting that I prefer your version to his! Justin's.
Review: Does The X Factor Have "IT"?
Paula Abdul called Drew's performance "commendable, original, daring, and bold… I liked you a lot. Very original."
Said Simon: "This is exactly what I want a 14-year-old to do on this competition… I like you a lot."
Reid also loved it, telling her "You really made it yours, it was soulful and believable and you are special."