Seven Things You Didn't Know About Lady Gaga's New Flame Taylor Kinney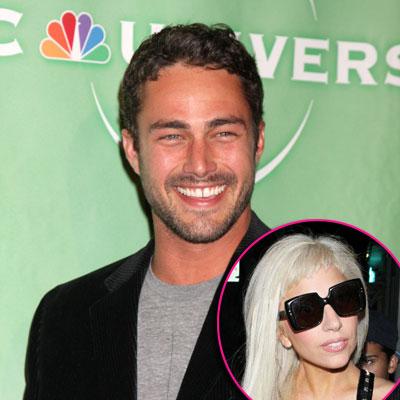 Lady Gaga's arguably the brightest shining star of this era, so naturally, anyone who gets in her inner circle is going to soak up some of the limelight themselves. As we previously reported, the Born This Way singer has been cozying up to actor Taylor Kinney, her co-star in the video for her song You & I.
With that in mind, let's take a closer look at the bright-eyed actor who seems to be up at bat in the singer's LoveGame.
Article continues below advertisement
7. He's looking for his (big) big break in Hollywood: Kinney is one of many hunky heartthrobs who looks to make his mark in Hollywood and he's had moderate success so far, having appeared in number of movies and TV shows to build his resume. His biggest role-to-date has come with seven episodes of the TV series The Vampire Diaries. He's also been seen on Trauma, CSI: NY, Bones and Fashion House.
6. He's an East Coast guy: Kinney hails from the small town of Neffville, Pennsylvania, which sits about 75 southeast of Philadelphia. (She's a New Yorker.)
5. He's all business: Kinney studied business management at West Virginia University before catching a taste for the theater.
4. He was discovered: A talent scout from Advance Los Angeles Talent Agency noticed Kinney on a trip to Hawaii, opening up the door to show business for him. Kinney moved to Los Angeles to further his acting aspirations shortly thereafter.
3. There's more where that came from: Kinney has three brothers. (We're not sure if they're as hot as he is.)
Article continues below advertisement
2. Surf's Up: One of the ways he keeps his body toned and taut is hitting the waves, as the Pennsylvania transplant's an experienced surfer.
1. He likes motorcycles: It's another positive harbinger of a potential relationship between he and Gaga, who takes on the form of a motorcycle on the cover of her latest album, Born This Way.
RELATED STORIES:
Lady Gaga's Hot New Romance — Vampire Diaries Star Taylor Kinney