Exclusive
Another Unexplained Shoe Print Found At Rebecca Zahau Crime Scene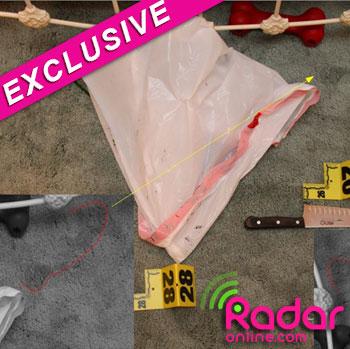 - RadarOnline.com Senior Reporter
As the mystery surrounding the death of Rebecca Zahau grows, another unexplained footprint has surfaced, in the bedroom where she was moments before she allegedly hanged herself RadarOnline.com has exclusively learned.
Dr. Maurice Godwin, a forensic expert hired by the Zahau family, told RadarOnline.com that a shoe impression on the carpet in the bedroom is unknown and may not have come from police but from someone else not yet identified.
Article continues below advertisement
"The toe is actually underneath the foot of the bed," Dr. Godwin told RadarOnline.com about the shoe print in the photo given to RadarOnline.com that was part of the police evidence. "This could suggest that it is likely not from the police."
Rebecca's naked body was found hanging from the balcony at her boyfriend Jonah Shackani's historic Spreckels Mansion in Coronado, CA in July, two days after his son, Max, 6 was found unconscious at the base of the stairs. Max later died from his injuries.
Police have said that Rebecca hanged herself after receiving a distressing call from Shacknai telling her that his son's health had taken a turn for the worse. They have said she was alone in the home, but her family disputes this assertion and have said they think she was murdered.
Forensic Expert Reveals Another Set Of Unknown Footprints On Balcony In Zahau Case
According to Dr. Godwin's examination there was an unknown shoe impression in the bedroom where the police have said Rebecca was before she hanged herself by tying a rope to the leg of the bed frame, which would raise a flag about someone else being in the room with Rebecca.
Article continues below advertisement