Exclusive
Bravo Looking To Clean House (And Housewives) In New Jersey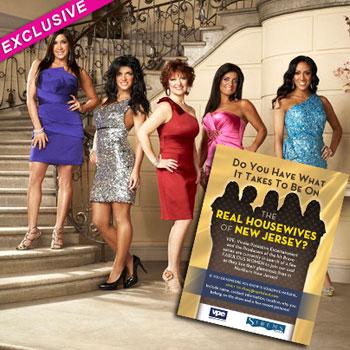 By Alexis Tereszcuk - RadarOnline.com Senior Reporter
Bravo just axed a bunch of ladies from the Real Housewives of New York, and now RadarOnline.com has exclusively learned that there might be a cast shake up in New Jersey as well.
A casting company is advertising for "a few FABULOUS WOMEN to join our cast as they live their glamorous lives in Northern New Jersey" and have made phone calls to various "Housewife worthy women" hoping to add some new blood to the hit reality show.
Article continues below advertisement
Teresa Giudice is rumored to be on the upcoming Celebrity Apprentice, and Jacqueline Laurita may have actually quit the show already according to LynnNChicago blog, so it looks like there are some openings in the New Jersey family.
Tom Murro, the Celebrity Magnet, shared an email he received from the agency alerting him of the openings in the cast.
"I am writing because I'm currently casting for the Real Housewives of New Jersey and in my searches, you come up as knowing everyone in New Jersey. Haha." The email reads. "I was wondering if we could talk and if you might be able to lead me in the right direction of potential cast-members or if you know anyone fantastic right off the bat!"
According to the agency doing the casting, they have now found the fabulous women they were looking for and told Muro they "wrapped casting a few weeks ago."
So who is being replaced and who will be the new faces on the show?
Mrs. New Jersey Claire Pavlinec is one possibility, and she coyly told RadarOnline.com: "You never know what the future holds."
Tell us, who do you think should get let go from the Real Housewives of New Jersey?