Ka-Ching! President Obama To Host $18K Per Person Dinner In Los Angeles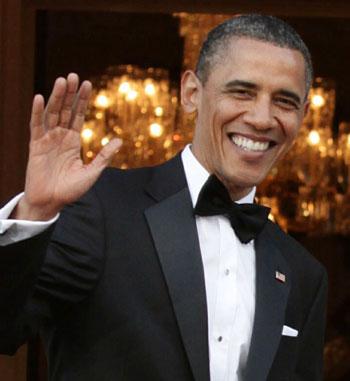 How much would you pay to dine with President Barack Obama?
Dinner with the leader of the free world is priceless, apparently - or close to it. Executive Chef Pascal Lorange at the Fig & Olive in West Hollywood will be holding a fundraiser for Obama when he visits Los Angeles on Monday, and the price per plate is an astounding $17,900, reported the Hollywood Reporter.
Those who don't like dining alone and want to bring a date will have to fork out $35,000 for the evening, which includes the chance to participate in a Q&A with the President, and dessert - we hope!
Article continues below advertisement
Located on trendy Melrose Place, Mediterranean mecca Fig & Olive has become a celebrity favorite since it's grand opening last February. Most recently Fox hosted it's post-Emmy party at the restaurant on Sunday.
While the menu for Obama is a closely guarded secret, Fig & Olive is renowned for it's extensive olive oil selection, small plates and imported charcuterie and cheeses.
Earlier in the afternoon, the President will attend a fundraiser at the House of Blues on Sunset Boulevard, where a mere $250 will get a single person in the door, while $10,000 will get you a photo opportunity with the main man himself.
According to the Hollywood Reporter, entertainment industry donors are expected to figure prominently in the Democrats' fundraising plans for the hotly-contested 2012 elections.
Showbiz figures contributed about $40 million to the Democrats during the last presidential election cycle.
As RadarOnline previously reported, Lady Gaga says she plans to meet with President Obama in wake of the heartbreaking suicide of a boy in Buffalo, New York who was taunted by bullies at school about his sexuality.
Article continues below advertisement
"I am meeting with our President. I will not stop fighting. This must end. Our generation has the power to end it. Trend it #MakeALawForJamey," she tweeted Wednesday.
An Obama Campaign official told RadarOnline.com on Thursday that while, "There is no private meeting scheduled between the President and Lady Gaga, she will be at a previously scheduled campaign event next week on the West Coast."
The official was unable to confirm which event the Born This Way singer will be attending.