More Confirmation That Demi Moore & Ashton Kutcher Have Split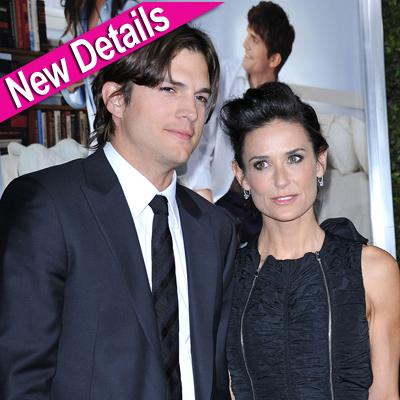 A source close to Demi Moore has further confirmed the news that Star magazine first broke earlier this week -- that the GI Jane star and hubby Ashton Kutcher have split after six years of marriage.
As RadarOnline.com has previously reported, Demi and Ashton's relationship has crumbled amidst his constant flings, and the pair will be battling it out in a bitter $290 million divorce.
On Thursday, a source close to Demi told Entertainment Tonight that the Ghost star is "sad, hurt and embarrassed" by the scandal.
Article continues below advertisement
The source went on to tell ET that "her and Ashton had been receiving counseling from Kabbalah over the summer to try to fix their marriage," and the couple are now living apart.
Both Moore, 48, and Kutcher, 33, are still wearing their rings, but sources have told Star they have been doing that to keep the split quiet and that the marriage is in fact over.
As RadarOnline.com previously reported, when Demi and Ashton should have been celebrating their six-year wedding anniversary last weekend, Kutcher was in a San Diego nightclub boozing with scantily-clad women, one of whom he reportedly slept with, according to website TheDirty.
Meanwhile, Demi was in New York walking the red carpet with Jennifer Aniston for the premiere of her Lifetime movie, Five.
23-year old blonde coed Sara Leal, who allegedly hooked up with Ashton at the Hard Rock Hotel in San Diego on September 23, has hired a top Hollywood attorney and gone into hiding since news of her indiscretions with Ashton broke.
RELATED STORIES:
Demi Moore Still Not Talking About Divorce, Ashton Kutcher Cheating Charges