Michael J. Fox On Charlie Sheen: 'Show Business: We're All Here Because We're Not All There!'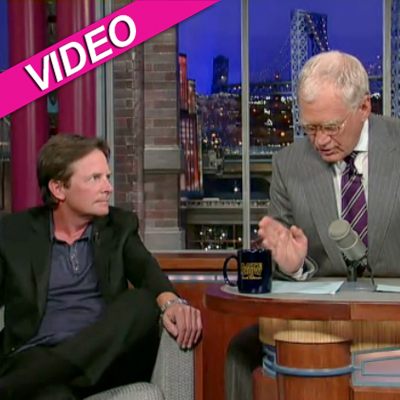 By Adam S. Levy - Radar Staff Writer
Michael J. Fox perfectly summed up Charlie Sheen on Thursday's edition of The Late Show, telling David Letterman the secret of show business: "We're all here because we're not all there!"
In introducing Fox -- who's put a public face on Parkinson's in his 20-year battle with the disease -- Letterman compared the actor's bravery to his guest earlier this week, Medal of Honor winner Sgt. 1st Class Leroy Petry.
Article continues below advertisement
Asked about Sheen, Fox, 50, had kind words for the actor, who replaced him on Spin City ten years ago.
"He did a great job and was fantastic -- it was especially good because he worked, and I got paid!" the Back to the Future star joked. "He was great... I feel bad for him with all his troubles now."
Asked by Letterman if he had any insights as to Charlie's personal and professional struggles, Fox said Sheen "says he's doing OK, so who am I to say he's not?"
"That's right, he's all out there winning," Letterman joked (with a hint of sarcasm). "You worry about it when the kids are involved -- but other than that -- that's the way show business ought to be."
Fox said, "Show business: We're all here because we're not all there!"
"That's exactly right!" Letterman said.
The Family Ties star appeared to promote the 2011 Nike Mags, the limited-edition, Back to the Future-inspired sneakers available on eBay. The proceeds of the show sales will be forwarded to the Michael J. Fox Foundation for Parkinson's Research.