Man Goes On Breast Milk Diet: 'Don't Have A Cow, Man'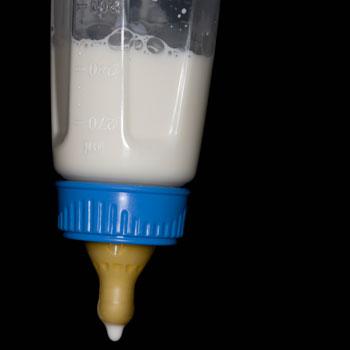 And we thought that the Zone and the Adkins Diet were extreme!
Curtis, a blogger and father to a 9-month-old baby girl, has vowed to go on an all-breast milk diet for as long as he can last, documenting the entire experience on his blog, Don't have a cow, man – and RadarOnline.com has all the details.
Though he remains anonymous, the blogger identifies himself as weighing 185 pounds and standing at 6 foot 4 inches – which means that he needs 2,000 calories a day, equal to 66 ounces of breast milk, to sustain.
Article continues below advertisement
"And yes, I know how weird this may sound, it is kind of weird to me as well but why not? I mean cow milk was made for baby cows, why not drink human breast milk that was made for baby humans," he explains of his decision.
How did he get this eccentric inspiration?
After noticing the surplus of breast milk that was building up in the freezer, Curtis revealed on his blog that he began drinking the maternal milk to settle digestive problems, and plans to continue the diet until the freezer is empty.
"I may even be sad when all this milk is gone from the freezer," he admitted on his blog.
Curtis kindly offers any surplus milk to needy families, noting: "Serious inquiries for the milk will be considered. We can not pay for shipping. As you can see by the photos we have a large supply of breast milk.
"Take into consideration the large cost of shipping the milk, the weight of the milk, and the dry ice required to keep the milk frozen. It would also have to be shipped overnight to ensure it is kept frozen. It will be quite costly. Take into consideration where you would store the milk once you receive it."
Article continues below advertisement
Although Curtis claims that he actually prefers the flavor of breast milk over the more conventional choice of cow's milk, he does admit to one negative side-effect. "What I am producing is a lot of gas, and I mean a lot, but luckily it isn't too rank," he writes.
What do you think about the 'Don't have a cow, man' diet? Leave comments below!
RELATED STORIES:
Overweight Mom Admits to Feeding Sons To Death, Has Fattened Them Up To 800 Pounds