Lady Gaga Stole Taylor Kinney From SD Girlfriend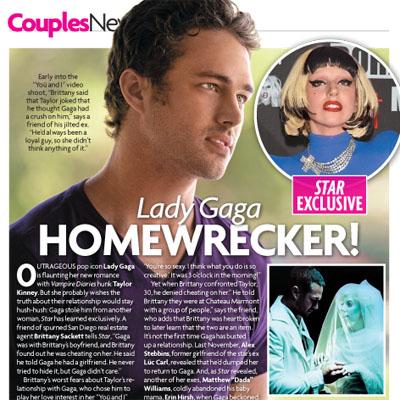 By Adam S. Levy - RadarOnline.com Staff Writer
While it's widely known Lady Gaga's been seeing Taylor Kinney, her beefcake co-star in her You & I video, this week's Star exclusively reports that Kinney ditched Brittany Sackett, a 26-year-old real estate agent from San Diego, to play with the Love Game singer.
A pal of Sackett's told Star, "Gaga was with Brittany's boyfriend, and Brittany found out he was cheating on her."
Article continues below advertisement
Kinney, an actor from Neffville, Pennsylvania, "said he told Gaga he had a girlfriend," the pal told Star. "He never tried to hide it, but Gaga didn't care."
Even worse, the pal told Star, was the odd way Brittany learned about the Bad Romance between her beau and the Poker Face singer.
"Brittany told me, 'I got a pocket dial from him and recognized Lady Gaga's voice,'" the pal told Star. "Brittany went on saying, 'I heard them making out.' She was saying to him, 'You're so sexy. I think what you do is so creative.'
"It was 3 o'clock in the morning!" the pal told Star, adding Kinney's excuse to Brittany was "they were at the Chateau Marmont with a group of people."
A witness who saw Gaga and her new flame at the Sneak Joint in San Diego September 4 said they held little back in showing off their affections for one another.
"She and Taylor were flirting all night and kept smacking each other's butts," the witness told Star. "She was grinning from ear to ear."