Exclusive
Jonah Shacknai Was Telling People Girlfriend Killed Herself On Day Her Body Was Found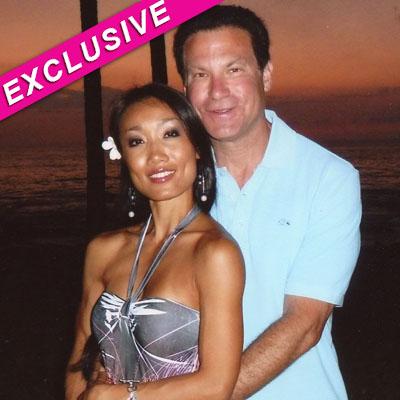 By Jen Heger - RadarOnline.com Legal Editor
Jonah Shacknai told Rebecca Zahau's family on the day she was found naked and hanging from a balcony at his Coronado mansion, that she had killed herself, RadarOnline.com is exclusively reporting.
The San Diego Sheriff's Department just declared Rebecca Zahau's death a suicide last Friday.
Mary Zahau, Rebecca's sister tells RadarOnline.com: "Jonah told my husband, on the day that Becky died, that she had killed herself. Jonah tried to reach me, but got my husband on the phone first to give us the horrible news that Becky had died.
Article continues below advertisement
"When my husband had told me what happened, that Becky had supposedly killed herself, well, I knew there was no way that was true. Becky never had a history of depression, or suicidal tendencies."
On July 13, Zahau was found naked and bound, hanging from outside the Coronado, Calif. mansion she shared with her multimillionaire boyfriend, Jonah Shacknai and his six-year-old son, Max.
Max was critically injured in a fall inside the house on July 11. As RadarOnline.com previously reported, officials theorized that Zachau was distraught over the accident and took her own life. Tragically, the boy died on July 16.
San Diego Sheriff's Department announced on Friday that around 12:50 a.m., Rebecca received a voicemail message from someone close to the situation, informing her that Max's condition had worsened. Mary reveals: "The police told us that Jonah was the one that left a message for Becky around 1 a.m., and that he informed her that Max had taken a turn for the worse, and likely wouldn't survive."
MORE ON:
Celebrity Justice
Article continues below advertisement
According to Mary, Rebecca wanted to visit Max in the hospital, but Jonah told her not to visit. "Becky told me that she wanted to go to the hospital to be with Max, but Jonah told her not to come," Mary says. "Jonah told her not to visit, because he wanted to avoid a confrontation between Becky and Dina (Jonah's ex-wife)."
The Zahau family disagrees with the determination that Rebecca killed herself, and has hired attorney, Anne Bremner, who has called on police to re-open their investigation.