Jackson Family Arrives To Dr. Conrad Murray's Trial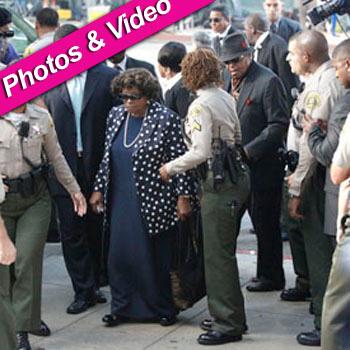 by RadarOnline.com Staff
Just about every prominent member of the Jackson family -- including father Joe, mother Katherine, and siblings Janet, LaToya, Jermaine and Randy -- arrived at the Los Angeles courthouse Tuesday morning as the trial of Dr. Conrad Murray begins in earnest.
The famous family will be present as opening arguments begin in the case, in which prosecutors will claim Michael Jackson died from a lethal dose of Propofol, a strong anesthetic which Murray's admitted to administering to the super star singer to help him sleep.
Article continues below advertisement
Many of the family members -- including Janet -- have been outspoken against the Houston-based doctor, who will testify in his own defense.
Janet told ABC News in November 2009 that she holds Murray responsible for her brother's death, as "he was the one who was administering ... I think he should be responsible."
Murray was present at King of Pop's rented Holmsby Hills mansion when he unexpectedly died at 50 on June 25, 2009. Jackson's official cause of death was deemed acute intoxication of a powerful anesthetic complicated by other sedatives. If convicted, he faces up to four years in prison, as well as losing his medical license.