Heath Ledger's Tree House For Sale Again — Take A Peek Inside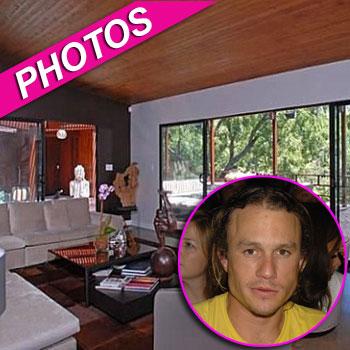 By Alexis Tereszcuk - RadarOnline.com Senior Reporter
The Los Angeles home that Heath Ledger once shared with Michelle Williams and their daughter Matilda is back on the market again for $2.995 million.
The then-happy couple bought the home from Ellen DeGeneres in 2005 for $2.1 million, but after Ledger and Williams split and his tragic death in January 2008 the house was sold that July for $2.5 million.
Located in the Hollywood Hills and known as "the tree house," the 2 bedroom, 2 bathroom home has 1,861 square feet of living space and 2,500 square feet of outdoor living space according to Zillow.
Article continues below advertisement
The luxurious home has an outdoor movie lounge with a projector screen, a dining and barbeque space and the property is filled with sycamore trees.
Williams and Ledger starred in the film Brokeback Mountain together, and their daughter Matilda is now five years old.
Williams is playing Marilyn Monroe in an upcoming film but despite her success she says she has thoughts of changing careers.
"I often dream of quitting acting," Williams told Hobo magazine. "Walking away and becoming a laundress or a sous chef or maybe writing other people's love letters for a living. Clearly, I don't like to be in charge. And thinking of quitting is just keeping going in disguise. When you have options, anything is bearable. It's when a situation is inescapable that it becomes hell."