Chaz Bono And Lacey Schwimmer Are An Adorable Dancing Duo!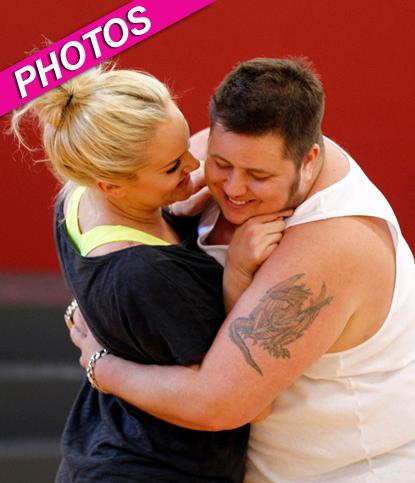 Chemistry on the set!
Dancing with the Stars partners Chaz Bono and Lacey Schwimmer were having a blast at rehearsals on Wednesday - and RadarOnline.com has the fun photos to prove it!
Cher's transgender son looked happier than ever, as he goofed around with his professional dancer partner.
The two were totally at ease with each other, looking like old pals. They even took a moment to embrace in a friendly hug, with smiles splashed across both of their faces.
Article continues below advertisement
Chaz's appearance on the upcoming season 13 of the hit show has already started controversy, and it's not even aired yet!
A spokesperson for the Media Research Center, which "seeks to bring balance to the news media and prevent liberal bias from undermining traditional American values" thinks that casting Bono is a step too far.
"Whether it's Glee or Dancing with the Stars, this is part of Hollywood's insistence on tearing down traditional families," Dan Gainor, VP of Business & Culture at the Media Research Center, told RadarOnline.com. "Parents now more than ever must realize they cannot let their kids watch television without supervision or risk advocating lifestyles that most families do not approve of."
MORE ON:
Dancing With the Stars
Meanwhile, LGBT groups are firmly behind Chaz. A spokesperson for the Gay & Lesbian Alliance Against Defamation (GLAAD) told RadarOnline.com that the move is a big breakthrough for the community.
"At a time when transgender representation in the media is sorely lacking, Chaz Bono joining the cast of a series like Dancing with the Stars would be a tremendous step forward for the public to recognize that transgender people are another wonderful part of the fabric of American culture," said Herndon Graddick, Senior Director of Programs at GLAAD.