Chaz Bono: 'You Won't Catch Gender Dysphoria By Watching Me Dance On TV'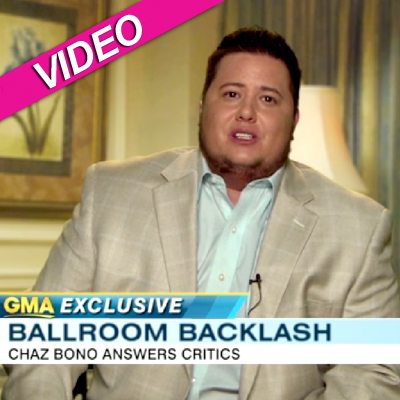 Calling himself "just a regular guy," Chaz Bono appeared live on ABC's Good Morning America on Tuesday in wake of stinging criticism that he should not be allowed to appear on Dancing with the Stars' new season because he's transgendered.
Bono, 42, said he hasn't been paying that much attention to the controversy and that he's been focused on dancing and said it's a "much bigger deal to everyone else than it is to me."
Article continues below advertisement
The only child of Cher and the late Sonny Bono told GMA's George Stephanopoulos: "I'm just a regular guy. All these ideas that children shouldn't watch me that I'm going to be confusing, all of this stuff, it's crazy and for all of the kids and teens out there with gender dysphoria, I think it's going to have a really positive impact. I know that if, when I was growing up, I would have seen someone like me on a show like this, it would have made all the difference in the world in my life."
Watch the video on RadarOnline.com
Bono also said he's there to dance and not to push any agenda. He also said "people who don't have gender dysphoria aren't going to catch it by watching me dance on television."
Bono said he's already lost eight pounds and called it "hard work" and "very challenging," but said he's "really enjoying it."
Bono also said he really appreciates his mom's adamant defense of him via Twitter and said he hopes to see her there in the studio audience during his run on the show.