Charlie Sheen Makes Surprise Appearance With Dad & Brothers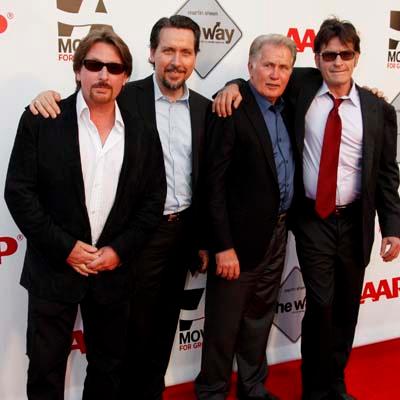 by Radar Staff
Charlie Sheen made a surprise appearance on the red carpet at the Nokia Theatre in Los Angeles this weekend when he was reunited with his father Martin and brother Emilio Estevez at the premiere of Emilio's new film, The Way.
Charlie and Emilio's brother Ramon Estevez was also on the red carpet with the family; sources told the NY Post Charlie was mellow and low-key, as he supported his brother's latest project.
Article continues below advertisement
The former Two and a Half Men star was not expected at the Friday function, which was a part of AARP's Movies for Grownups festival. About 3,000 viewers for were in attendance at the event.
Martin and Emilio kept a low profile during Sheen's well-publicized meltdown earlier this year, staying supportive, though at a distance, from the unpredictable 46-year-old actor.
In an interview with the U.K's Telegraph magazine in March, Martin said he thought Charlie's well-documented drug use had stunted his development.
Charlie's "not a kid, but emotionally, he still is -- because when you're addicted, you don't grow emotionally," Martin told the publication. "So when you get clean and sober, you're starting at the moment you started using drugs or alcohol -- you're emotionally crippled."
In the same piece, Emilio said that Charlie grew up with "the same set of rules" as the rest of his siblings, but went down a different path in his personal life -- particularly in regards to boozing.
Article continues below advertisement
"It really gives credence to this theory that it is genetic, and that sometimes it skips either a generation or siblings," Emilio said. "My mother doesn't drink. My other brother hasn't had a drink in over 10 years, my dad hasn't had a drink in 20. And I make wine."
Charlie Sheen Jokes About 'Crack Pipe' At Comedy Central Roast
Sheen's Comedy Central roast last week was seen by 6.4 million people, good enough to rank as the second most-watched telecast in the history of the cable channel.