The Charlie Sheen Saga Continues -- One Tweet At A Time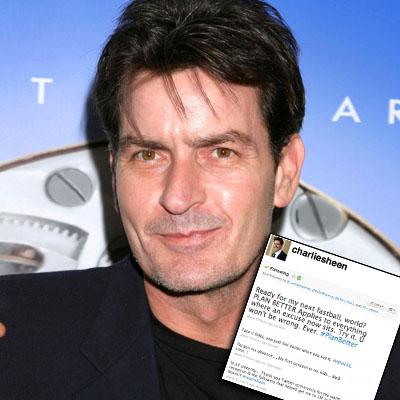 Charlie Sheen's recent comings and goings -- aptly described by the actor as "an odyssey" -- continued via Twitter into late Wednesday, RadarOnline.com has learned, as the talented-yet-troubled Two And A Half Men star sent out a series of tweets updating his massive fan base on his personal and professional battles.
After racking up an incredible number of Twitter followers on his first day as a member of the micro blog, Sheen tweeted, "In all sincerity... Thank you Twitter community for the warm reception & the followers that helped get me to 1M in 24 hours!!!"
Article continues below advertisement
It's worthy to mention that throughout Wednesday, the hottest topics on Twitter included Sheen-related phrases such as "Emilio Estevez," "Winning," and "Tiger Blood."
On that note, Charlie then reinforced his now-famous catchphrase, tweeting: "Face it folks, you just feel better when you say it. #WINNING"
Sheen referenced his twins Max and Bob, who were removed from his custody in a RadarOnline.com world exclusive Tuesday night, tweeting: "Pardon my absence... My first concern is my kids... Back soon..!"