Exclusive
Another Alleged Beating By Southern California Police Caught On Camera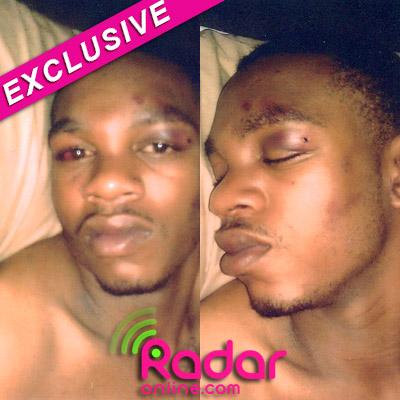 The Gardena Police Department in Southern California are being accused of assaulting an African-American motorist, who was apprehended and charged with felony resisting arrest -- and the alleged beating was captured on video, RadarOnline.com is exclusively reporting.
Perry Alexander was arrested on March 16, 2011 in Gardena, after he was pulled over by the police for an alleged traffic violation.
Article continues below advertisement
Alexander's powerhouse attorney, Allison Triessl tells RadarOnline.com exclusively: "In this case, the wrong person is being charged with a crime. The officers in this case asked Perry Alexander to exit his vehicle, he complied. The officers then asked Perry Alexander to place his hands on the hood of his vehicle, he complied. The officers searched Perry Alexander and found nothing. When Perry Alexander simply questioned his detention, he was brutally assaulted by the officers. It is the officers' conduct in this case that should be criminally scrutinized not Perry Alexander's."
Perry Alexander was formally charged by the Los Angeles District Attorney on August 15, 2011, on two counts of felony resisting arrest. According to court documents: "Alexander Perry (name spelled incorrectly on complaint) who did unlawfully attempt by means of threats and violence to deter and prevent Eric Williams and David Golf, who was then and there an executive officer, from performing a duty posed upon such officer by law, and did knowingly resist the use of force and violence said executive officer in the performance of his/her duty."
Article continues below advertisement
EXCLUSIVE DOCUMENTS: Read The State's Case Against Perry Alexander
Triessl fired off a letter to the District Attorney's Office, which RadarOnline.com has exclusively obtained -- and she maintains that the wrong person is being prosecuted.
"Since the inception of this case, it has been our position that the officers in this instance were the aggressors and it is their conduct, not Mr. Alexander's that should be prosecuted...Not only did we thoroughly brief the matter for your office's review and ask for an in person meeting before a filing decision was made, we also provided your office with video footage and pictures of Mr. Alexander's injuries which should absolved Mr. Alexander of any wrongdoing," the letter states.
EXCLUSIVE DOCUMENT: Read Perry Alexander's Attorney's Letter To The DA
"There is a video that shows the beating, it was taken from a security camera from a nearby building," a source exclusively tells RadarOnline.com.
Perry was subsequently taken to Gardena Memorial Hospital, and Triessel states in her letter: "As a result of the injuries Mr. Alexander suffered at the hands of several police in this matter, he was transferred to Gardena Memorial Hospital to receive medical care....We have been informed that several nurses observed the severity of Mr. Alexander's injuries with one in particular informing the parents of Mr. Alexander that, 'it was wrong what the officers did to their son and they should get a lawyer for him immediately.'
Article continues below advertisement
"Although we have sent investigators to locate the nurse in question and obtain a statement from her, we have been informed that the hospital staff has been told not to comment on this case. Given the importance of this witness and the curious nature of her silence, we should respectfully request that your office reach out to the hospital staff and inform them that they may speak to us."
Among Alexander's alleged injuries were a black eye, with a gash above it, a heavily bruised cheek and a bloodshot eye. Sources connected to the case tell RadarOnline.com that Alexander has suffered from long term injuries because of the alleged beating.
Perry Alexander will be formally arraigned on Wednesday morning at the Torrance Superior Courthouse. If convicted of both charges, Alexander faces up to two years in state prison and $10k in fines. A peaceful protest is planned at the courthouse to show support for Perry Alexander.
"The Los Angeles County District Attorney's Office file cases after carefully evaluating the evidence presented by law enforcement. That was the process followed in this case, which will proceed through the courts. It is our policy not to comment on the evidence in the case until it has been testified to in court. That likely will occur at a preliminary hearing, which will be scheduled after the defendant is arraigned," Los Angeles County District Attorney Spokesperson Sandi Gibbons tells us.