The Black Eyed Peas To Play Michael Jackson Tribute Concert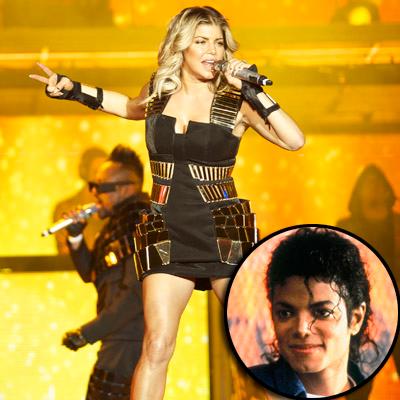 by Radar Staff
The Black Eyed Peas will play the star-studded tribute concert to Michael Jackson at Millennium Stadium in Wales, RadarOnline.com has learned.
Peas' co-founder will.i.am -- who worked as a producer in the studio with Michael from 2007 until his death in 2009 – issued a statement Friday from Los Angeles, saying "This show is going to be an incredibly personal and moving evening for me.
Article continues below advertisement
Remember that Michael's music, his great, great songs, have been an inspiration to my whole life and certainly formed the soundtrack to my childhood.
"When I was a little kid of six or seven growing up in Los Angeles, there was Michael recording Thriller, and all his early hits, just a few miles away across town - obviously I didn't know him at that time, but I loved him as a fan.
"Then one day about four years ago, with The Black Eyed Peas well established, I got a call from him I will never forget. I then had the great privilege of working with him and getting to know him and his beautiful family.
"That's why The Black Eyed Peas wouldn't miss being at the Millennium Stadium for this gig on October 8th: we all owe Michael such a lot."
Several members of the Jackson family will attend the concert -- called Michael Forever -- although others will remain in Los Angeles for the trial of Dr. Conrad Murray, who's charged with involuntary manslaughter in connection with the singer's death on June 25, 2009.
Article continues below advertisement
Michael's brother Marlon Jackson issued a statement regarding the 'Peas' involvement, saying "We're all really delighted and touched that the Black Eyed Peas are able to come and take part " he commented. "My brother rated Will.i.am and the original things he does in music very highly. I guess you could say it was a case of mutual respect."
Since Jackson's death, The Black Eyed Peas have paid tribute to The King of Pop at every one of their shows.
Other artists scheduled to perform at the concert include Jennifer Hudson, Christina Aguilera, Cee Lo Green, Motown legends Gladys Knight and Smokey Robinson, as well Jamie Foxx to name just a few.
Beyonce will be beaming in a special contribution by video link.
The concert is intended to celebrate the 40th anniversary of Jackson's solo career.
RELATED STORIES:
Jury Will Be Chosen Friday In The Trial Of Dr. Conrad Murray