Exclusive
Beyonce Pulls Out Of Live Satellite Performance At Michael Jackson Tribute Concert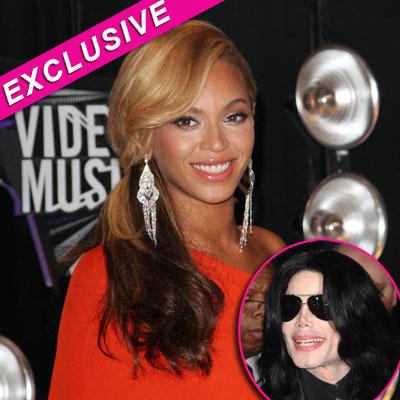 By Jen Heger - RadarOnline.com Legal Editor
The Michael Jackson Tribute concert in Cardiff, Wales, will not be featuring a live satellite performance by Beyonce as originally promised, RadarOnline.com is exclusively reporting.
Concert promoters had earlier stated that the pregnant singer would be performing via satellite, but on the Ticketmaster website for the event, Beyonce is now listed as making "a special contribution on video."
Article continues below advertisement
"Beyonce won't be performing a song live via satellite for the tribute concert now," a source close to the situation tells RadarOnline.com exclusively.
The tribute concert also won't be attended by Janet, Randy or Jermaine Jackson because the trial of Dr. Conrad Murray, who is charged in the death of Michael, will be going on at the same time.
However, Katherine Jackson has said she will attend the concert, along with Michael's children, and LaToya fully supports the show and will also be there.
Creating more controversy, Michael Jackson fans are outraged that promoters are now offering 2-for-1 deals for tickets.
Fans that already bought tickets for the October 8 show at the 75,000 seat arena, won't qualify for the deal.
Performers slated to perform are Christina Aguilera, Cee Lo Green, Gladys Knight, Smokey Robinson, Leona Lewis, and Ne-Yo.
Ticket prices range from $55-450 with a service and processing fee of $20.
Article continues below advertisement
Concert promoter Global Live Events didn't immediately respond to request for comment on the story.
A rep for Global Live tells RadarOnline.com: "We never announced or confirmed Beyonce's participation, various media outlets announced her performing by satellite not us and we never confirmed that.
"Beyonce was always scheduled via a special video performance and message to Michael, family and fans. It is a spectacular performance!