Ben & Jerry's 'Schweddy Balls' Ice Cream Causes Outrage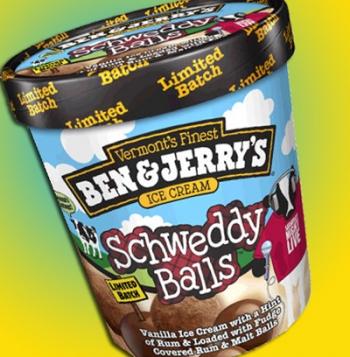 Ice cream usually causes smiles, not upset, but Ben & Jerry's latest flavor has gotten a frosty reception from right-wing groups.
It's not the yummy calorie-laden vanilla ice cream with a hint of rum and malted milk balls that has caused One Million Moms to call for a boycott of the frozen dessert, but it's raunchy name.
Inspired by a Saturday Night Live sketch, the delicious-sounding "Schweddy Balls" flavor was launched by the iconic Vermont based ice cream company earlier this month.
Article continues below advertisement
"The vulgar new flavor has turned something as innocent as ice cream into something repulsive. Not exactly what you want a child asking for at the supermarket," the group, an offshoot of American Family Association, stated on its website, OneMillionMoms.com.
As RadarOnline.com previously reported, in the hilarious SNL skit where the name originated, Alec Baldwin plays Pete Schweddy, owner of a holiday bakery called Season's Eatings, while Molly Shannon and Ana Gasteyer play straight-laced NPR radio hosts interviewing him for a culinary show.
The running joke goes like this: "There are lots of great treats this time of year," Schweddy says. "Zucchini bread. Fruitcake. But the thing I most like to bring out at this time of the year are my balls." ( As in cheese balls, rum balls, etc.)
But it turns out that One Million Moms doesn't like balls - even chocolate ones. "In the past, Ben & Jerry's has released controversial ice creams, like a special edition of Chubby Hubby called Hubby Hubby last year which celebrated gay marriage," explains the call to action on their site.
Article continues below advertisement
"It seems that offending customers has become an annual tradition for Ben & Jerry's."
600 moms so far have actually contacted Ben & Jerry's to complain about the controversial flavor, reported ABCNews.com, and the company has received an outpouring of support, including from the inspirational sketch's stars.
Baldwin, who will be hosting SNL's season premiere on September 24, released a statement saluting Ben & Jerry's, saying: "For a long time, I thought that 'Here Lies Pete Schweddy' would end up on my tombstone. Now, thanks to Ben & Jerry's, the goodness of the Schweddy family recipe won't go with me to the great beyond.
"It is immortalized here, right now, and it's an ice cream. Ben & Jerry's and Schweddy. Two great names in American dessert, together at last."
Ana Gasteyer added: "As a person and a performer, I am a sucker for holiday balls. And I have no doubt this ice cream will cause many to scream 'Good Times.'"
As for the folks at Ben & Jerry's, they threw the love right back at SNL.
"We're HUGE Saturday Night Live fans here at Ben & Jerry's and admire the writers, the crew and the players for their unparalleled ability to bring levity and laughter to America for decades," said Jostein Solheim, CEO of Ben & Jerry's.
Article continues below advertisement
"No other show has made such an impact on our culture, poking fun at our accomplishments, our failures, and our history: the good, the bad and the ugly. Since 1975, Saturday Night Live has allowed us to laugh at ourselves and for that we say thanks."
Unfortunately "Schweddy Balls" is only available for a limited time, so be sure to get your mouth around some soon.
RELATED STORIES: