Australia's New Passports: Male, Female -- Or Indeterminate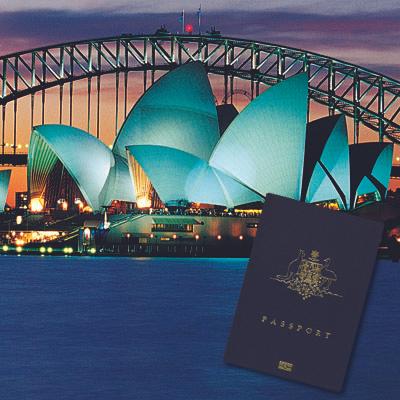 For all the flak that Chaz Bono is getting for competing on Dancing with the Stars -- here's a sign that perhaps at least Down Under, the time's they are a-changing. (To quote the great Bob Dylan).
On Thursday, Australia put into effect groundbreaking new passport rules that allow citizens to list their official gender as male, female or indeterminate, without having to undergo radical surgery as proof of a sex change.
Article continues below advertisement
The new guidelines are designed to remove discrimination against transgender people, the government said.
Australia had previously required a person whose gender was different from that of their birth to have reassignment surgery before they could change their passport to their preferred sex, and there was no "indeterminate" option.
Aussie Attorney-General Robert McClelland said the new rules mean that transgendered or intersex people would just need a doctor's letter of support to get a passport in what they considered their true gender.
"Most people take for granted the ability to travel freely and without fear of discrimination," McClelland said. "This measure will extend the same freedoms to sex and gender-diverse Australians."
For those who check the indeterminate option, "x" will appear in the gender category in their passport.
Aussie Senator Louise Pratt, whose partner was born female and is now identified as a man, said the reform was a major improvement for travelers who face questioning and detention at airports because their appearance does not match their gender listed on their passports.
Article continues below advertisement
Cher Slams 'Bigots' Who Are Attacking Her Son Chaz Bono
"'X' is really quite important because there are people who are indeed genetically ambiguous and were probably arbitrarily assigned as one sex or the other at birth," Pratt said. "It's a really important recognition of people's human rights that if they choose to have their sex as 'indeterminate,' that they can."
The move is being praised by the transgender and intersex community, who called for Australia's state governments to follow suit by allowing birth certificates to also be changed without the requirement of surgery.