Cher Surprises Chaz Bono On Ellen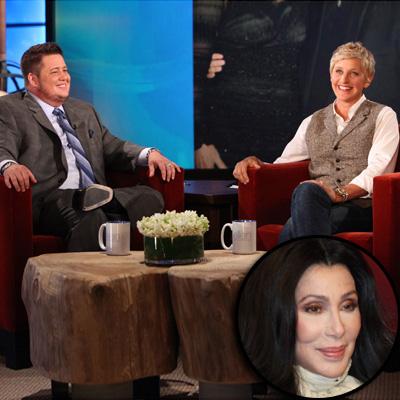 Chaz Bono stops by The Ellen DeGeneres Show on Wednesday, and RadarOnline.com has all the details for you.
Ellen surprises Chaz, 42, with a phone call from his biggest supporter, his mother, Cher and discusses the controversy surrounding him taking part on ABC's Dancing with the Stars, which premieres next Monday.
Here's how the conversation goes:
Ellen: We have someone on the phone… Hello, Cher. It's your Mom.
Article continues below advertisement
Cher: Hi Sweetheart. How are you?
Ellen: I'm fantastic. How are you?
Cher: I'm good.
Ellen: I was just saying to Chaz. What a brave human being. You must be so proud of how brave he is?
Cher: I am. Chaz and I actually talked about this several times over the years and then nothing happened. And in one way I thought, oh god, this is going to be so terrible. He is going to have to go through so much. The way he's handled himself. You know, my child, is a wonderful child.
Chaz: Thank you.
Ellen: I just want to hear your thoughts on people that are saying that they should boycott the show. They're asking people not to watch DWTS. What would you say to them?
Cher: You know, I don't know if people are that determined…if you got that excess time and that amount of hostility, I'm not so sure that I can say anything to you that would make you change your feelings. Because you know those are such feelings of hostility and fear, that I don't know that I would have any magic words to make you feel more comfortable and to soothe you into not being terrified of my child dancing on Dancing With The F*#%ing Stars.
Article continues below advertisement
Ellen: There you go. That's what I'm saying. That is the key thing to remember. This is your child. I think if any mother out there listening to this. What if someone attacked your child? Try to put yourself in someone else's shoes.
Cher: How is your dancing?
Chaz: My first dance is pretty good. The Cha Cha. The Quick Step gives me nightmares, but I'm starting to feel pretty confident. We did it for some of the other people on the show today and they seem to really like it.
Cher: I got to tell you something. You doing this dance is about as scary as you making the "change" (laughing)
Chaz Bono's DWTS Partner Lacey Schwimmer: 'He's A Full Man, In Every Shape Or Form'
Ellen: That is hilarious.
The Ellen DeGeneres Show airs weekdays nationwide in syndication. Check your local listings for the time and channel.
radar_embed service=5min.com src=" http://pshared.5min.com/Scripts/PlayerSeed.js?sid=1126&width=486&height=412&playList=517713135&sequential=1&shuffle=0"