From Chastity To Chaz -- Bono's Transformation Through The Years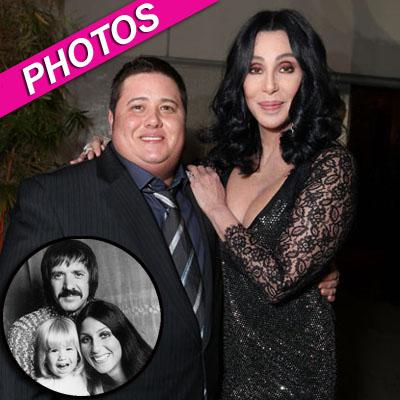 Chaz Bono is waltzing out of his famous parents' shadow for the first time in his upcoming stint on Dancing with the Stars.
Although fans of Sonny and Cher fondly remember the cute little girl that came on stage with her parents during their iconic 1960s TV show, few people knew the private pain that Chasity carried with her as she grew up.
The casting of Chaz,42,on the hit ABC dance show has caused controversy even before the premiere airs.
Article continues below advertisement
Christian groups and parental advocacy organizations have lashed out saying that the transgendered wannabe dancer will be a bad influence on young viewers who will be confused by Chaz's transformation from a woman to a man.
But Chaz has had a complicated life thus far, and it seems he is finally ready to face his mainstream critics head-on in one of the most popular shows on television and show that he is not as "scary" as he is being portrayed to be.
Chaz's gender re-assignment process began in 2008, and in 2010 he was officially recognized by the state of California as a man.
He legally went from being Chastity Sun Bono to Chaz Salvatore Bono.
Chaz was the only child of Sonny Bono and Cher, although they both have children from other relationships.
He grew up as a young girl appearing on his parents' television variety show and in the lap of luxury, but says that he always knew he was different.
Article continues below advertisement
In his book, Family Outing, Chaz said that he came out as a lesbian to his parents when he was 18-years-old, but knew for a long time he was not the same as the other girls in his school.
"As a child, I always felt there was something different about me," he wrote. "I'd look at other girls my age and feel perplexed by their obvious interest in the latest fashion, which boy in class was the cutest, and who looked the most like cover girl Christie Brinkley.
"When I was 13, I finally found a name for exactly how I was different. I realized I was gay."
Chaz says his superstar mother "went ballistic" when he first told her that he was gay, but after a year she had come around and shortly after Chaz came out publicly, which was in 1995, Cher appeared on the cover of The Advocate declaring that she was proud to be the mother of a lesbian.
However, his relationship with his father Sonny, who eventually became a congressman and was an avowed Republican, had deteriorated due to their political differences and they tragically never made amends before Sonny died in a skiing accident 13 years ago.
Article continues below advertisement
Chaz followed in his parents' footsteps and had a short career as a musician in the 90s, but has made his mark mostly as an advocate for gay, lesbian and transgender causes.
He has already opened up his life to cameras for the documentary Becoming Chaz about his sex change which premiered at the Sundance Film Festival this year and debuted on the Oprah Winfrey Network back in May.
Chaz has shrugged off the controversy surrounding his DWTS appearance, saying that it's a "bigger deal to everybody else" than it is to him, adding that he's just a "regular guy."
Cher Slams 'Bigots' Who Are Attacking Her Son Chaz Bono
He maintains that he is not appearing for any secret agenda, but just wants to be a good role model for young people enduring what he went through.
"For all of those kids and teens out there with gender dysphoria, I think it's going to have a really positive impact," Chaz said earlier this week to GMA. "I know that when I was growing up if I had seen someone like me on a show like this it would have made all the difference in the world."