Anne Hathaway Gets Catty!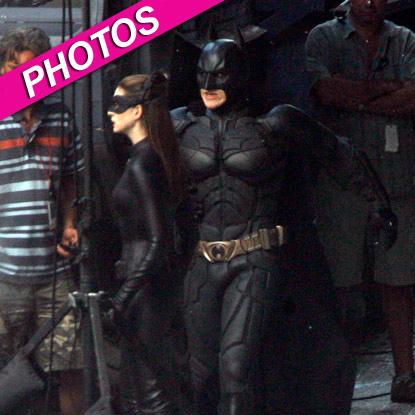 by RadarOnline.com Staff
Meow!
Anne Hathaway looked purr-fully sexy dressed as Catwoman on the set of the new Batman movie, The Dark Knight Rises, in Los Angeles on Sunday, and RadarOnline.com has the just-released pics.
This is the first time we're seeing a full body shot of Hathaway dressed in the skin tight black leather catty costume.
In the film, the Brooklyn-born beauty, 28, plays Selina Kyle (aka Catwoman), Batman's feline frenemy.
Article continues below advertisement
Hathaway was seen alongside Batman himself, Christian Bale.
In addition to Bale and Hathaway, the all-star cast includes Morgan Freeman, Michael Caine, Marion Cotillard, Gary Oldman, Tom Hardy, and Joseph Gordon-Levitt.
The Dark Knight Rises -- directed by Christopher Nolan -- opens July 20, 2012.
RELATED STORIES:
Anne Hathaway: 'I'm Living On Kale & Dust …The Catsuit's Unforgiving'