Exclusive
Little Weiner On The Way! Huma Abedin Shows Off Her Baby Bump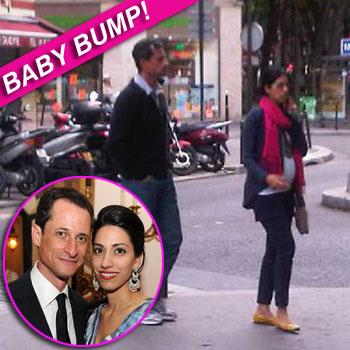 Anthony Weiner may no longer have a job, but he does have a new role in the future to look forward to — daddy.
The disgraced former congressman is expecting a child with his wife, Huma Abedin, who works as an aide to Secretary of State, Hillary Clinton, and RadarOnline.com has the first photo of the baby bump.
Although the couple is working hard to stay together following Weiner's recent sexting mega-scandal they didn't exactly look to be love's young dream as they strolled through one of the most romantic cities in the world, Paris, on Tuesday.
Article continues below advertisement
Huma, 35, did look glowing though, as she showed off her growing tummy while walking through the Montmartre district -- while Weiner, 46, looked.... well, kind of glum and bored... maybe he's missing his BlackBerry?
EXCLUSIVE PHOTOS: Gov. Mark Sanford & Mistress In Thong Bikini
Weiner flew his wife off for a romantic European vacation after leaving an "extensive rehabilitation program" which he entered to help treat his "sexting addiction."
Last week the couple took in the pleasures of Italy, enjoying the Amalfi Coast — at the same time Kim Kardashian was there on her honeymoon with new beau Kris Humphries.
It's the second vacation the two have taken since the scandal broke — back in July they headed to Miami, Fl. to celebrate their first wedding anniversary together.
Baby Weiner is due on New Year's Eve — it will be the first child for both Weiner and Abedin.