Exclusive
Anthony Weiner Whisks Pregnant Wife Away On 'Babymoon'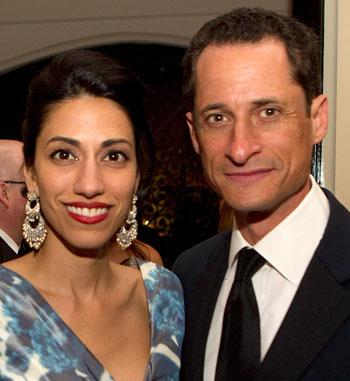 Anthony Weiner has whisked his pregnant wife away on a romantic "babymoon" as he tries to make-up for his much publicized sexting scandal.
The disgraced former congressman has taken Huma Abedin, who is five months pregnant, for a vacation to the beautiful Amalfi Coast in Italy.
And it's certainly the place to go for a good photo op as the scenic area is currently swarming with paparazzi chasing down Kim Kardashian who is there on her honeymoon with new husband Kris Humphries.
Article continues below advertisement
The political couple are staying at Le Sirenuse resort which is a private family-owned retreat that is "furnished with all the comforts of a luxury hotel while maintaining the atmosphere of a private home," the company's site says.
Weiner and Abedin have been seen enjoying dinner together with friends at the hotel's restaurant, according to the NY Post.
"They started at the champagne and oyster bar where they met another couple," the source shared. "From there, two other couples joined them and they went downstairs to the main room for dinner."
FIRST PHOTOS: Cheating Governor Mark Sanford Caught On Beach With Argentine Mistress
The resort is a favorite with celebrities like Reese Witherspoon who recently went there with her husband Jim Toth on their second honeymoon. Accommodations cost up to $4,889 for a two-bedroom suite with a double whirlpool bath that overlooks the ocean.
Abedin, who is one of Secretary of State Hillary Clinton's top aides, has not been seen very often with Weiner after he was forced to give up his political career.
Article continues below advertisement
When images of the 46-year-old posing shirtless with a bulging pair of briefs came to light, Weiner eventually admitted to sending inappropriate photos and text messages to at least six women.
He married Abedin, 35, in July last year and she is said to be due to give birth to their first child on New Year's Eve.
RELATED STORIES:
Congressman Weiner Can't Say 'With Certitude' That Lewd Photo Isn't Of Him