Exclusive
Anthony Weiner's Awkward Lunch Date With Wife -- Texting Again!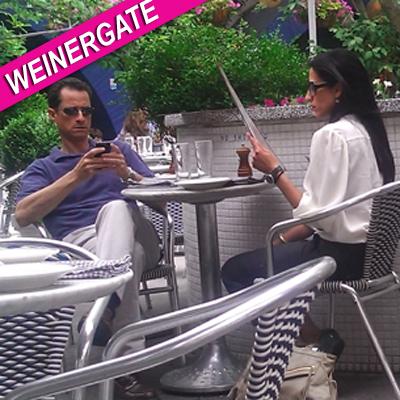 by RadarOnline.com Staff
With his past sexting record, disgraced former congressman, Anthony Weiner might want to put the Blackberry down, especially during a lunch date with his pregnant wife.
But this picture obtained by RadarOnline.com shows the ex-congressman simply can't stay away from the very gadget that landed him in hot water in the first place.
With his eyes firmly on his phone and Huma Abedin's on the menu, the couple looked far from intimate during a tense lunch at La Bottega in New York.
Article continues below advertisement
Weiner - who hit headlines after tweeting a photo of his bulging briefs to a woman - barely even looked at his wife, and according to an eyewitness she "looked miserable".
While they did share a plate of pasta, they did not appear to share much conversation.
Weiner resigned on June 16 following a string of sexually charged conversations he had with women over his cell phone and the internet.
RELATED STORIES: