Exclusive
Suri Cruise Rocks Two Adorable Outfits In A Day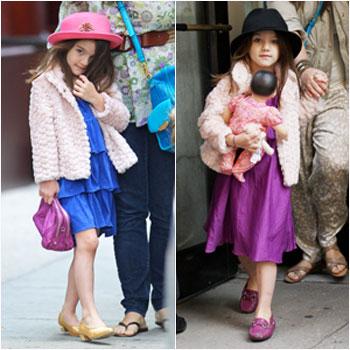 Article continues below advertisement
collection with matching purple Venettini "Melody" loafers in lilac, a light pink H&M coat and an adorable Emporio Armani black fedora.
But, forget about a purse – Suri proudly toted a "Bitty Baby" doll from American Girl.
Later on, Suri was spotted in an equally chic look, wearing a bright blue Gap Kids dress with the same faux fur jacket, a pink fedora, stylish gold heels and carrying a fuchsia leather clutch.