Katie Holmes: Why I Barked At A Raccoon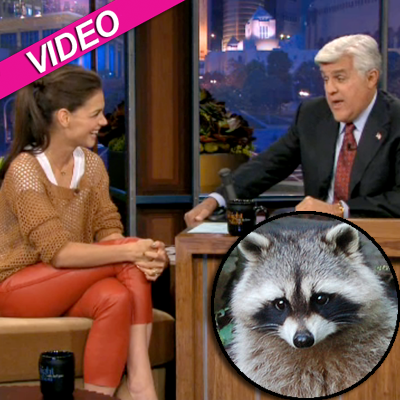 Katie Holmes copped up to a rather bizarre fear on Tuesday's edition of The Tonight Show with Jay Leno.
In the segment, in which Holmes promoted her new thriller Don't Be Afraid of the Dark, the wife of Tom Cruise admitted that while she's a bit rattled by scary movies, a worse fear for her is that of raccoons.
"Well, you know everybody always says spiders, or a dog and how they're more afraid of you than you are of them, and I don't find that with raccoons," the former Dawson's Creek beauty, 32, told Leno, who pointed out the large number of raccoons that inhabit the Southern California area.
Article continues below advertisement
Watch the video on RadarOnline.com
"I was recently sitting on a side and this raccoon comes right up," Holmes said, "and I'm expecting it to be more afraid of me, and I'm staring at it and it's staring right back like he's going to kick my butt!
"So I didn't know what to do, so I just stood up and I barked at him and he ran away!"
Way to use those acting skills Katie! Don't Be Afraid of the Dark hits theaters August 26.