Stars React To Warrant Singer Jani Lane's Death At 47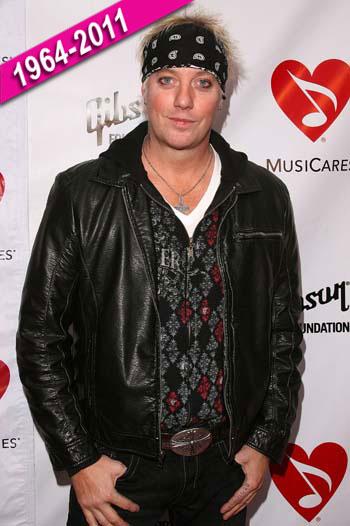 Celebs Friday were reacting, via their Twitter pages, to the sad news Warrant singer Jani Lane was found dead at 47 in a Woodland Hills, California Comfort Inn on Thursday.
Guns N' Roses guitarist Slash: "Just heard about Jani Lane. What a shame. RIP man."
Poison frontman Bret Michaels: "We'd like to offer our deepest condolences to the family of Jani Lane regarding their loss. Respectfully, Bret and all at MEGI."
Article continues below advertisement
Motley Crue bassist Nikki Sixx: "I just heard the sad news about Janie Lane. So hard to swallow when people have kids. RIP."
Pro wrestler/ Fozzy singer Chris Jericho: "Sad to hear about the passing of Jani Lane ... Jani was a good guy and one of the best songwriters in the late 80s ... Dog Eat Dog-very underrated."
Comic Jim Florentine: "So sad to hear about the passing of Jani Lane. He just taped an episode of That Metal Show 3 weeks ago and was in great spirits. RIP Buddy."
Martha Quinn, the former MTV VJ: "Super sad news. Jani Lane, dead at 47. His body found in a So Cal hotel. No cause yet. #RIP Jani Lane."
VH1's Jennifer Gimenez: "It is very sad and my heart is saddened to hear the news that I lost my lovable friend Jani Lane."
Lane, whose real name was John Kennedy Oswald, was born in Akron, Ohio and moved to Los Angeles for his big break in the mid-80s.
Article continues below advertisement
He'd reached his highest peak professionally as the frontman of Warrant, who scored a number of hits in the late 80s/early 90s with tracks such as Heaven, Down Boys, Sometimes She Cries, I Saw Red, and Cherry Pie.
He'd introduced himself to a new audience in appearing on VH-1's Celebrity Fit Club in 2005.
Amy Winehouse Died Alone In Bed
In recent years, Lane made headlines for his legal woes, racking up DUIs in 2009 and 2010.