Exclusive
Bret Michaels: From Fighting For His Life, To Fighting Fit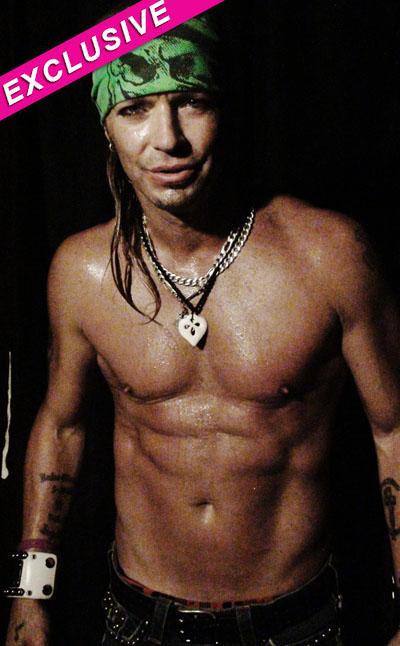 Only a year after a brain hemorrhage brought him to the brink of death, Bret Michaels is the picture of health, and has the six-pack to prove it!
Despite a grueling recovery from heart surgery in January and keeping up with a demanding tour schedule since March -- both solo and as Poison's front man -- Bret is putting his health and fitness first, he tells Star exclusively.
And he's quick to admit, "It's not been a joyride for me."
Article continues below advertisement
No matter how hectic it gets on the road, Bret keeps his exercise routine regular.
"Strength training is key so I can keep up my energy on stage, so I literally bring my gym with me," the 48-year-old explains. "I have my own gym that we carry behind the tour bus."
But the rock 'n' roll reality star is not just a gym rat — he also works out in the great outdoors.
"I go mountain biking and running," he says. "Whenever I can get off the bus, I take full advantage."
And how does he achieve those rock-hard abs?
"I do sit-ups," he reveals, "a lot of sit-ups."
But Bret doesn't sweat it out just to look sexy shirtless — it's also about his health.
"As a lifelong diabetic, every day is a battle," he admits. "You have to accept that you have diabetes because it is the card you've been dealt."
But he's not going to let his disease hold him back.
"I work to enjoy my life like a regular human being while keeping my blood sugar levels as decent as possible," he says. "It's a fine line, a catch-22, a balancing act."