Exclusive
Real Housewives Star Cedric Martinez Refused Entry To Russell Armstrong Memorial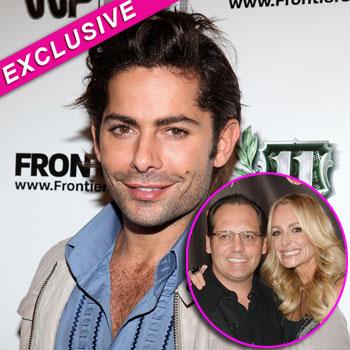 One mourner that wasn't present at Russell Armstrong's memorial Wednesday was fellow Beverly Hills cast mate Cedric Martinez.
A source close to the situation tells RadarOnline.com that Cedric planned to pay respects at his close friend's memorial.However, despite clearing his attendance with Taylor Armstrong, in advance, Cedric was rudely turned away at the entrance by one of Taylor's friends.
Article continues below advertisement
"Cedric was left devastated that he did not get to attend his friend's memorial," his rep said in a statement exclusively to RadarOnline.com. "But out of respect for Kennedy, Griffin, Aiden and those in Russell's family who truly loved him, Cedric left quietly without making a scene.
"On Monday, to ensure there would be no drama, Cedric met Elaine Culotti, Taylor's close friend, for lunch at La Scala. Cedric asked her to clear everything with Taylor, in advance. And she did...
"After speaking with Taylor, Elaine told Cedric there would be 'no problems' and even invited Cedric to drive to Forest Lawn with her. She also invited Cedric to the private reception dinner to be held at Elaine's home, immediately following the memorial.
"However, this afternoon at the entrance to the chapel, Cedric was told, 'your name is not on the list,' by a woman with a clipboard. Cedric said, 'My name is on the list,' but the woman interrupted, saying, 'Taylor doesn't want any drama,' adding 'Taylor wants it very private," the rep claims.
MORE ON:
Russell Armstrong
Article continues below advertisement
According to the rep, however, Elaine called Cedric after the service to apologize and he may attend tonight's post-memorial dinner.
Cedric appeared in many episodes of the Real Housewives Of Beverly Hills as a close friend and house mate of Housewives star Lisa Vanderpump and her husband. However, the trio had a well documented falling out at the end of the last season and are no longer on talking terms.