Roseanne Barr: 'I Am Running For President Of The United States'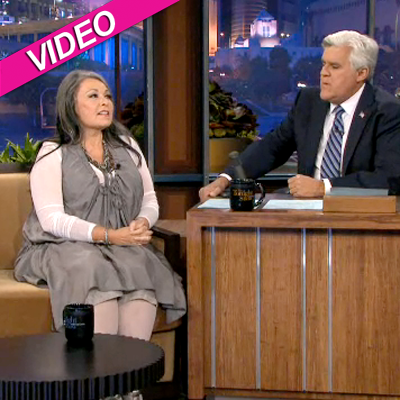 Well, she does live on a nut farm!
Roseanne Barr announced, "I am running for President of the United States," on Thursday's edition of The Tonight Show with Jay Leno.
Said Roseanne: "I'm totally serious, cause I want to be part of the debates, because I want to represent the taxpayer.
"In fact, I'm choosing the taxpayers as my vice president."
Roseanne's inspiration to do both a reality show, and quest for the Oval Office, came from an unlikely source: Sarah Palin.
Article continues below advertisement
"That's kinda what got me to thinking that I too should run for president, if she can," Roseanne said.
Watch the video on RadarOnline.com
Roseanne, 58, said she won't be running under the banner of the Democrat or Republican party: "I'm not for either party because they both suck and they're both a bunch of criminals ... so I made up my own party, it's America's Green Tea Party."
Roseanne's platforms: No taxes, forgive all student loans, legalize marijuana, eliminate money.