David Letterman Mocks Drunken Vandal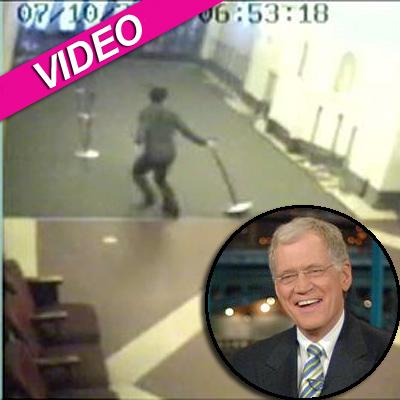 by RadarOnline.com Staff
David Letterman got the last laugh Monday after mocking the drunk who trashed the Ed Sullivan Theater and RadarOnline.com has the hilarious video.
Jimmy Whittemore was arrested after vandalizing the venue, which hosts Letterman's show, and the comedian was not going to let him get off lightly.
"This is the Late Show, not just a talk show, ladies and gentleman, this is an active crime scene," Letterman said to his audience Monday night.
Article continues below advertisement
And he jokingly hinted at his talk show rival, Jay Leno's, involvement in the crime.
"A guy breaks into the Ed Sullivan Theater, right here, a guy breaks in. I'm told now that Jay has an alibi."
Letterman continued to mock the 22-year-old failed actor who claims he hardly remembers smashing the doors of the famed theater and trashing the inside.
And topped off his attack by making him the subject of his Top 10 list, naming it, 'Top 10 Excuses of the Guy Who Broke into the Ed Sullivan Theater'.