David Letterman's Top Ten List: What Are Lindsay Lohan's Summer Plans?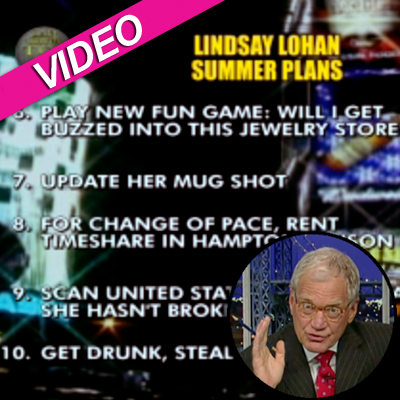 Lindsay Lohan's 35-day house arrest sentence is over, and on Wednesday's The Late Show, David Letterman's Top Ten List posed the question: "What are Lindsay Lohan's summer plans?
So, without further adieu...
10. Get drunk, steal some crap
9. Scan United States code for laws she hasn't broken
8. For change of pace, rent timeshare in Hamptons prison
7. Update her mug shot
6. Play new fun game: Will I get buzzed into this jewelry store?
Article continues below advertisement
5. Help Michele O'Bachmann learn the difference between actors and serial killers
4. Decide if the next step is Dancing With The Stars or Celebrity Rehab
3. Shop for the latest trends in ankle monitor fashions
2. Go see new Tom Hanks/Julia Roberts movie "Larry Crowne"... The Chicago Tribune calls it a delightful romp
1. Get treated for "exhaustion," "dehydration" or some bull**** celebrity affliction