Roseanne Barr On Charlie Sheen: 'I Can Understand How You Can Go Really Crazy Like That'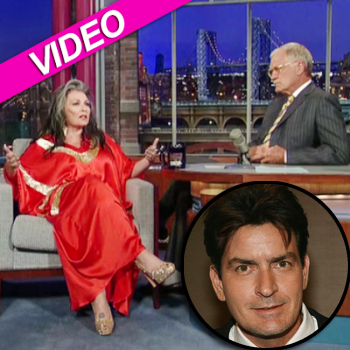 By Adam S. Levy - RadarOnline.com Staff Writer
Roseanne Barr said that she completely gets how Charlie Sheen could crack up under the enormous pressures of the Hollywood meat grinder, as the funny woman appeared on The Late Show Tuesday to promote her new Lifetime reality show, Roseanne's Nuts.
She recalled a story about how her sister was in the audience for one of the initial tapings of her iconic sitcom Roseanne, and overheard a pair of skeptics questioning how "a show about fat people" would prosper in the ratings.
Article continues below advertisement
Roseanne, 58, said she's never met Sheen, but "kind of feels sorry for him."
"I can understand how you can go really crazy like that," she said.
Watch the video on Radaronline.com
What Roseanne didn't say on Letterman was that while she's never met Mr. Tiger Blood, she has bad blood with his arch-rival, Two and a Half Men creator and executive producer Chuck Lorre, who worked on her show from 1990-1992.
Article continues below advertisement
In a blog earlier this year, she called Lorre's writing a mismash of "sh*t jokes and adolescent sniggering over breasts and women's body parts lines.
"I never really worked with him," Roseanne blogged about Lorre, "as he was mostly drunk when he was on my show and too busy making deals with my producers for shows that copied mine...to turn in too many good scripts."
Roseanne's Nuts premieres on Lifetime Wednesday at 9/8c. The Late Show airs weeknights on CBS at 11:35/10:35c.