David Letterman's Kirstie Alley Fat Jokes Come Back To Haunt Him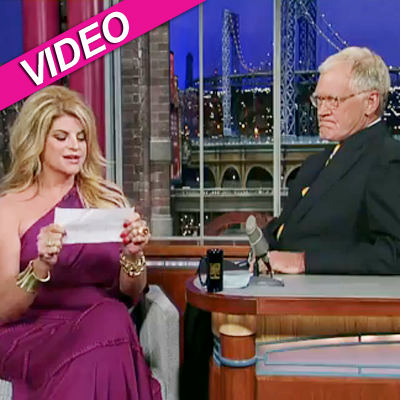 Karma came to collect on David Letterman Thursday night, in the form of Kirstie Alley.
The 60-year-old Cheers star asked Letterman if he loved her. When he said he did, Alley confronted the Indiana funnyman about cracking weight jokes at her expense during her stint on Dancing with the Stars this past spring.
In fact, she even read them aloud to Dave, who squirmed uncomfortably (granted, he does that every night) while listening to the mean-spirited barbs read back to him.
Article continues below advertisement
Among Dave's jokes, read by Alley:
"Kirstie Alley is joining Dancing with the Stars … if you don't already own one now might be a good time to get a wide-screen TV."
VIDEO: Kirstie Alley Does Lifts & Cartwheels On DWTS -- At Age 60!
"Last night on Dancing with the Stars, Kirstie Alley fell over on the dance floor … how many of you felt it?"
"The judges scored Alley's dance an eight -- on the Richter Scale."
Watch the video on RadarOnline.com
"We do love you," Letterman told Alley. "If you were skinny, we'd tell jokes about you ... eh, probably not."
The Late Show airs weeknights on CBS 11:35/10:35c.